For display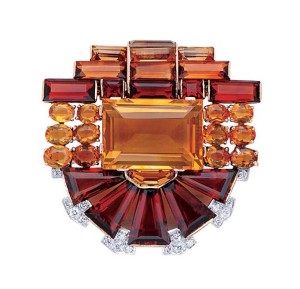 Dedicate a particular physical area in your store to the estate side of your business. Customers will appreciate the feeling that comes with a touch of exclusivity.
A series of architectural drawings or pictures of celebrities convey the associated periods and wouldn't incur a great cost. Dramatic black and white imagery can be equally as effective. Inexpensive postcards or downloaded copyright-free images representing the different eras also evoke a sense of history. There are four popular periods among estate jewellery connoisseurs.
Art deco is associated with film noir onscreen glamour, all juxtaposed angles and repetitive linear geometry, with either monochromatic colourless diamonds or the other extreme of tutti-frutti colours and the sharp contrasts of black onyx, pink coral, green jadeite; New York's Chrysler building or an edgy painting by artist Tamara de Lempicka or Erté evoke geometric streamline moderne. Rings and bracelets will be an easier sell than brooch clips; all will have the cool, clean linearity of typical art deco designs. Platinum and diamonds and icy rock crystal jewels accented with baguette-cut stones transcend the fickleness of trends that come and go and comfortably straddle an old idea with a beguiling relevance for today's fashion-conscious consumer. Natural or synthetic ruby and sapphire accents are true to the 1920s, as are individual pieces comprising multiple cuts of diamonds. Bestsellers, or look-a-likes, are from Cartier, Tiffany & Co., Van Cleef & Arpels, Asprey, and Mappin & Webb.
Retro pieces from the mid-30s to early 50s often have architectural, odeonesque curves and arcs side by side, with a square or rectangle shape set with different gemstones; broad bands on the finger or wrist are decorated with bold motifs; round beside square has a modish and modern look, and when accented by attractive asymmetrical details, pieces have a distinctly contemporary feel suitable for today's fashion-forward client. Extravagantly sized 20-, 30- and even 100-carat stones dominate rings set with elongated emerald-cut aquamarines, citrines, smoky topaz—the bigger, the bolder, the better. Pink, yellow, and green gold were typical metals in use. Names to watch for are Cartier, Tiffany & Co., Mauboussin, Verdura, and Flato.
Victorian styles comprise a vast choice spanning 63 years. The mourning series with jet bead necklaces, drop pendant earrings, and rings that could have been made yesterday, have a contemporary flair and look great with current fashions.
Art nouveau—which spans the 1890s to 1910—has a fluid romantic look leaning toward a traditional feminine stereotype, which depending on your market, may be a tougher sell. Brooches and pendants are all romantic flowers and vines, dragonflies, sensuous curves, and whiplash tendrils similar to the original decorative cast iron subway entrances of the Paris Metro stations or dreamy pale advertising posters from Toulouse-Lautrec and Mucha. Famous examples come from Tiffany & Co., Lalique, and Vever.
Eye-catching = ka-ching $$$
It'll take a bit of time, commitment, and cash outlay to challenge yourself and your customers, but the potential gains are unlimited and worth the risk when you take advantage of the healthy attitude for resale in the estate market.
Adventurous, downright avant-garde flamboyant, or classic conservative, every era suits every esthetic. Helping clients indulge in a little fantasy of time travel may bode well for your future.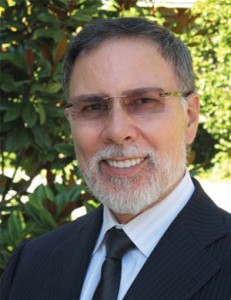 Ron Dupuis is a gemmologist and graduate jeweller with 32 years' experience in the international auction market. He is president and CEO of Toronto-based Dupuis Fine Jewellery Auctioneers and can be reached at ron@dupuis.ca.