By Carly Midgley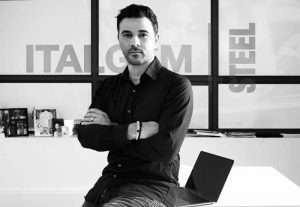 Sam Mamane has no doubt he's in the right industry.
"Working in the field must have been part of my DNA," he says. "Since starting my company, I have been passionate about crafting my own unique designs as a form of creative expression."
Now president of Italgem Steel—an innovative, alternative metal men's jewellery brand—Mamane has been entrenched in the jewellery business from his earliest days, having grown up in a family of highly regarded jewellers. He began his career in the gold and diamond wholesale industry before starting his own gold jewellery distribution company in 2002. By 2008, however, factors including the rising prices of gold and what he describes as "the consistent lack of high-quality men's jewellery" had encouraged him to take a different path. Thus, Italgem was born.
A team effort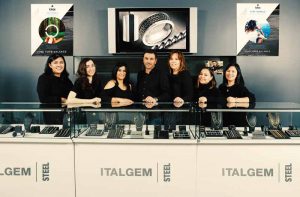 "Italgem Steel started off as a one-man show, where I handled every aspect of the business personally," Mamane says. "I now operate a very successful corporation with dynamic staff members and honourable sales representatives. I attribute a large part of my success to being surrounded by a great team that shares my vision."
This team includes not only the company's internal staff, but also external players such as its retail partners. Indeed, Mamane credits those partners as a major factor in the brand's ongoing achievements.
"We have forged strong and meaningful relationships with our retailers, which we value tremendously," he says. "They are equally responsible for the reputable company I am proud of. They boastfully carry our brand in their stores, and are our biggest ambassadors in showcasing our collection of alternative metal jewellery."
The goal of building and deepening relationships also drives the company in its active role as an exhibitor. With Italgem set to appear at events including Expo Prestige, JIS Miami, CanGift Toronto, and JCK Las Vegas, Mamane says show attendance is all about bonding.
"Exhibiting goes beyond business," he points out. "It's personal—reconnecting and uniting a community that is shaping the future of the jewellery industry."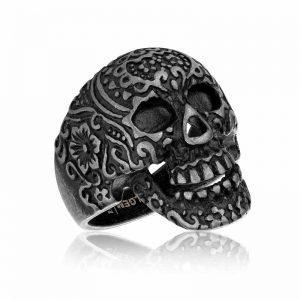 However, he has not forgotten the company's humble beginnings, nor the drive he developed as its first supporter. While the Italgem of today is certainly a collaborative effort, combining the abilities of a wide variety of employees and partners, its president makes sure he himself is still the common thread in the fabric.
"I remain involved in every aspect of the process, from designing each piece to selecting the appropriate packaging," he says. "We are not only selling the jewellery, but also the brand."
Forging ahead
In an industry continually rocked by change, Italgem operates based on a simple principle: adapt to thrive.
"The key factor to surviving in what can sometimes be a volatile market is the ability to easily adapt," says Mamane. "That is, the ability to overcome any hardship that comes along and view it as a learning experience rather than a hindrance."
Indeed, he remains determined and even optimistic in a market many see as unforgiving. Mamane develops the company's strategies based on a broad view of the industry that recognizes and accounts for the immense diversity of the Canadian jewellery trade.
"The industry has experienced economic conditions throughout the past few years that have stimulated a heightened consumer demand for jewellery throughout Canada," Mamane says. "Consequently, Italgem Steel carefully caters to the different needs of the very different provinces across the nation."
So how does the company capture the attention of such a varied group of buyers? The secret, according to Mamane, is staying ahead of the industry, always seeking to break new ground.
"Innovation is the key in creating new designs for the modern man," he explains. "We pride ourselves on our own unique designs, learning what works and what doesn't while continuously striving for improvement, growth, and expansion."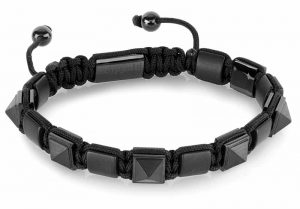 Once an innovation has been identified as part of a winning business model, Italgem is not quick to forget it. The company tempers its constant pursuit of the new, the bold, and the unique with respect for proven strategies. Just as much as new prospects, existing customers and partners are at the heart of every consideration.
"We continuously focus our energy on meeting the needs of our existing relationships with our authorized retailers within each province, coast to coast throughout the country," Mamane says. "It is imperative our business continues to know what our customer wants and how to deliver it."
Of course, "know what the customer wants" is an age-old rule in the world of business, and Italgem does not hesitate to apply it to a modern-day obstacle: the Internet. By combining tried-and-true customer knowledge with the power of new technology, Italgem transforms the problems of the digital age into an advantage, remaining at the forefront of a fast-paced global market.
"The advent of Internet marketing is both a blessing and a curse. Competition is no longer localized, but now comes from all over the world," says Mamane. "We overcome this impediment by using those very same tools to market, research, and communicate with our audience."
It's this research that helps Mamane to effectively craft designs that draw in the modern man. Each piece is created based on special consideration of the emotions, personality, and preferences of the end consumer.
"When designing, I think about the ultimate consumer and the sentiments they will experience when they complement their look with one of my designs," he says.
Reaping the rewards
Italgem has big plans for the rest of 2018. The company intends to continue to innovate by adding new gunmetal elements to its traditional material of stainless steel, as well as by incorporating new trends such as geometric shapes and the metallic gemstone, hematite.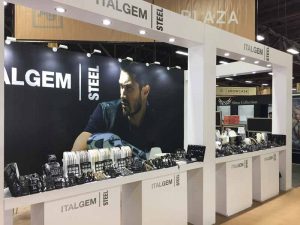 In the coming year and beyond, Mamane says the company will not hesitate to push the boundaries of jewellery design—and he'll be with it every step of the way.
"I am confident the industry will continue to shine in the upcoming years," he says. "Paired with our innovative designs, the growing economy will allow Italgem Steel to thrive in and conquer a growing international market."