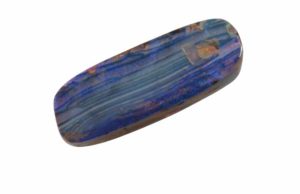 It takes all kinds
The world of opals is vast and captivating. A wide variety of opals can be found all over the world, but those of Australia are the most well known and most often used in jewellery. About 95 to 97 per cent of opals on the market are Australian.
Other countries (such as Ethiopia, Brazil, Mexico, and Honduras) also produce small amounts of opals, but Australia is the primary source of the black variety. South American opals are often more orangey (known in the market as fire opals), while Ethiopian opals have more transparency. However, they also absorb a lot of water, which makes them less stable and more prone to cracking than the Australian material. Some other countries, like the United States, Ethiopia, the Czech Republic, Hungary, Mexico, and Indonesia, also produce very small quantities of black opals.
White opals
Of the precious opals (i.e. those with a colour scheme), white opals are the most common. In Australia, they are found southwest of Brisbane. The base of the opal ranges in tone from white to very light grey.
White opals have been the best-known variety commercially since the early 1900s. With the many legends surrounding this gem combined with its affordable price point, it is no surprise it's making a comeback with young designers.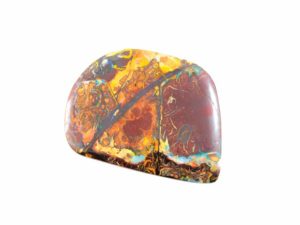 Black or 'dark' opals
Black opals are found at Lightning Ridge in New South Wales, Australia. They can be discovered all along the ridge, which is about 100 km (62 mi) long. The colour scheme of the black opal is particularly noticeable because of its dark background, which contrasts with colour flashes. These are the most expensive opals in the world, as well as the rarest.
However, the Canadian market for black opals is quite weak. Typically, people know much more about the white versions. In our experience as gemstone suppliers, when we say 'black opal,' customers tend to react with confusion, especially when we discuss price. In our business, people who ask to buy a black opal know about them and are aware they are rare and expensive.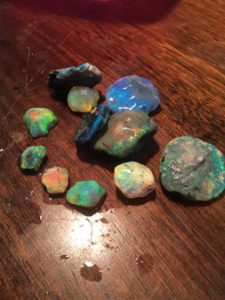 Boulder opals
Boulder opals are found in ironstone. Unlike black and white opals, which are entirely made of opal, these gems are carved from ironstone, because the precious material is often found in veins or layers too thin to be extracted from the rock. They tend to be larger and less expensive than the black variety, although their colour scheme is very dramatic with their relatively dark background.
Boulder opals are much easier to sell in Canada than black opals. They are more affordable, and designers love to use them in jewellery. They are also a little easier to work with, as the ironstone in the back is stronger than the opal itself.
Matrix opals
Matrix opals are like small veins found in ironstone. Their formation is essentially the same as boulder opals', but occurs in thinner veins (actually fissures filled with silica).
Matrix opals can be both very affordable and very pretty. Just about every market can be reached with these gems and their vivid, colourful veins, and they are a nice introduction into the market of black opal. The blue and green colour seen here is more popular than red and orangey hues, which makes this variety easier to sell.
Opalized fossils
Since opals form inside porous material, some can be found in bone or shell fossils or in fossilized wood. These are usually kept as specimens by collectors.