Do you see a pattern here?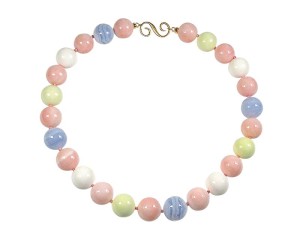 A curious confluence of creativity happens each year amongst designers who pitch their wares at the Tucson shows. The very nature of their artistry lends itself to working within a vacuum. It would be hard to imagine they divulge to their competition what they are working on prior to these shows. However, simultaneous trending patterns can often be identified by simply walking the aisles on the first day.
Vendors were selling eye-catching stylish cuffs for less than $90 Cdn made from sharkskin in natural tones and bold colours. But couture designers also had brightly coloured bejewelled sharkskin cuffs in the $890 Cdn range.
Another trending pattern came to the fore among designers looking to ride the next wave in coloured stones. This year saw an explosion of bold collections created in analogous colour combos. Colours adjacent on the colour wheel create excitement by lending an impression of depth or movement to an item. For each designer, however, it's a personal prompting that inspires their analogous colour choices. U.S designer Babette Shennan brought a wide array of brightly hued jewellery, including a blue and green gemstone ring inspired by the colours in nature she loves. An avid scuba diver, Shennan spends time in the tropics admiring marine life, especially tropical fish flaunting vibrant blues and greens.
Everyday exotics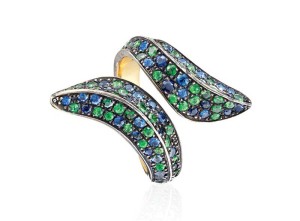 A theme reverberating at the seminars offered at AGTA's GemFair pointed to the prevalence of exotic stones in both designer and volume-manufactured goods. During the economic downturn of not that long ago, designers resorted to using unknown and inexpensive stones as a way to offer lower price points so customers would continue to buy. That was then. Nowadays, daring jewellery artists place matrix opal with diamonds in high-karat gold collections and geode slices as the bold centrepiece of pricey couture jewels. Celebrities strut their stuff wearing exotic jewels on the red carpet, so it is natural designers would oblige their customers with a cultivated preference for out-of-the-ordinary stones.
The appeal of so-called exotics ultimately lies in their beauty as a fashion accessory. Women may not know what the stones are, but they easily gravitate to what they like. First-time exhibitor Splendid Co.'s wide use of unusual stones makes it a natural for upscale retailers whose clientele demand something no one else will be wearing. Designer Robin Franklin admits her designs are not for everybody, and that's fine with her. Each of her creations are strictly one-offs, such as a single strand made of Peruvian pink opal, white shell, blue lace agate, and lemon chrysoprase beads.