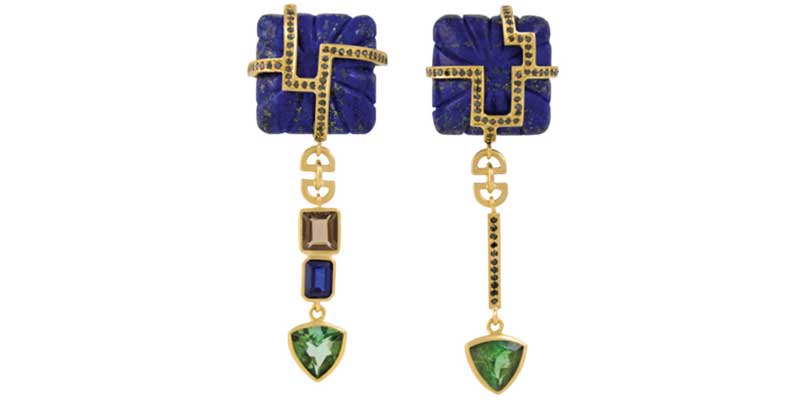 By Anita Ehui
Whether you are a fashion insider or onlooker, it is a well-known fact Fall is the most intense season of the year. Newsstands are filled with thick consumer magazines, fashion week buzz is in the air, and window displays are adorned with the most anticipated collections and hype-worthy jewellery.
Inspiration is everywhere. With a push of influence coming from the runway and revealing a sense of what buyers are looking for, jewellers should take advantage of the upcoming demand in accessories. Now is the time to start preparing by recognizing the crucial must-haves of the season.
Gold hoops
Dubbed as the unavoidable classic, hoops have made their way back onto the trend radar. The question is what gives them the it-factor this season?
Perhaps it's the musings of Marilyn Monroe's signature old-school gold hoops or maybe it's updated twists seen on Michael Kors, Marc Jacobs, and Balenciaga's Fall/Winter 2017 runway shows.
Nevertheless, hoops have a long-standing history in fashion and pop culture—the main influences of the way we act, react, and dress. Today, hoops are trending for their perennial and versatile old-Hollywood glamour. The earring style remains a crowd favourite for its assured beauty on women of all ages as there's a style for everyone. Your customers can channel this trend by wearing door knockers, oversized or textured hoops with a glint of gold.
Hand embellishing
Hand embellishments are now a major player in accessories. This season, many customers will be wanting to dress their hands.
A common misconception about covering hands with too much bling is that it will subtract femininity from the wearer. However, hand bracelets and ring sets of three or more are proving to do quite the opposite. Bracelets are designed with elongated lines connecting your customer's bangle to her rings—tracing the symmetry of her hands.
Additionally, women of today are revamping traditional ring wear i.e. sporting only one or two rings at a time—commonly this is an engagement ring and/or wedding band.
Stacked rings are putting the creativity back in add-ons by allowing customers to mix and match their favourites. A great style recommendation is to pair rings of different shapes and sizes to create a set of finger décor. Allow your customers to bundle all five fingers, adding one more ring every other finger for a bolder statement.
Monograms
Fashion has always been logo-obsessed, so it's no surprise jewellery is moving in the same direction. Double-lettered accents, acronyms, and initials are available in the form of pins, earrings, and necklaces.
Once reserved for only high-end goods, the monogram is popular as a personalization for customers looking for an added 'wow' factor.
Most recently, jewellery trends have shifted from bold statement pieces to dainty classic declarations of style. These pieces are the true conversation starters, and the type of jewellery stirring curiosity.
Monogrammed heirlooms are great investment pieces to consider as a pendant necklace or studded earrings. Don't forget to offer products with accents in gold or brass to maintain vintage appeal.