By Anita Agrawal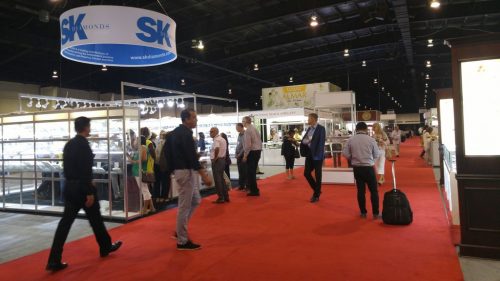 Across industries, trade show business has declined substantially for the first time in 25 years. I think trade shows still hold significant value and importance, but they need innovation. How can we make the trade show experience more worthwhile for people?
To arrive at a solid answer, it's important to look at the issue from the perspectives of both buyers and exhibitors.
As a buyer
Trade shows are all about building connections, so buyers are a crucial part of each event. The following are a few strategies that can help amp up trade shows' appeal to this all-important group.
Give me that free lunch!
This year, I had the opportunity to go as a delegate to numerous trade shows, including She Trades in Liverpool (a United Nations [UN] and International Trade Centre [ITC]-led initiative), VicenzaOro, the Hong Kong Jewellery & Gem Fair, and the Bangkok Gems and Jewelry Fair (BGJF). How much does it cost to buy a cappuccino at a jewellery show in Canada? Nearly $6 to $8. How much did it cost me at any of these trade shows? Nothing. Really—nothing.
The food at Canadian trade shows also tends to be overpriced. You are a captive market and venues know this. The costs associated with travelling to shows are high, and typically already include accommodations, gas, car rental, and closing your store for the day(s). Then you have to pay $5 for a cup of coffee and a whopping $20 to 30 per person for lunch on top of that?
While offering free refreshments seems like a very small thing, it actually has value to visitors, and it doesn't need to be a massive undertaking. In Liverpool, for example, everyone got three meal tickets for the duration of the conference. You could redeem them for a simple bento box with a sandwich and salad. There were more than 500 people there, and I suspect the costs of each box were $8 per person, but it had an impact on the visitor experience. In Bangkok, VIP guests had access to an entire buffet, which would have normally cost them $23 per person, and in Vicenza, the delegate room had regular drinks and a limited lunch period with simple salads and sandwiches.
If I'm taking the time to attend a show as a delegate, I will be incentivized knowing meals, snacks, and coffee are one expense I don't have to worry about. The free lunch could also be an incentive for attendees to register early—if you don't register on time, no lunch tickets. (Organizers could also try holding lunch for a short two-hour period. You don't show, no lunch.)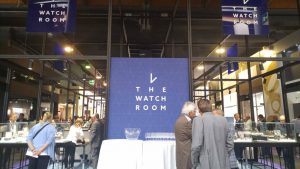 Less paperwork, more pre-show organization
Buyers are constantly inundated with papers at trade shows, but more and more, they are seeing this as 'clutter' and 'noise' that holds very little meaning. Seldom do buyers actually take the time to read the material provided at shows. Instead of doing solely doing print advertising, then, organizers should create more pre-event engagement. This means targeted e-blasts, social media posts (photos and video), and efforts to let attendees know in advance who the speakers are and when they speak.
Learning forums
I was very impressed by the learning experience at the trade show in Liverpool. It really stood out to me because the educational portions weren't held in some hidden room or side venue—they were centre stage and open concept. It was almost like a Greek agora, with chairs assembled around the stage. It didn't matter whether you were a buyer or exhibitor; you could sit, stand, eat, enjoy, and learn. This added real value for me. In between going to visit vendors and conducting business meetings with international buyers, I could take some time to learn and not have to figure out where to go or worry I'm interrupting the seminar in a closed room.
Getting an education from young experts
Our industry constantly laments, "Where are the young people?" Well, there are actually a lot of them, and in two short years, generation Z (yes, the ones after the millennials) are poised to become the biggest consumer demographic. Yet, if you go to trade shows in our industry, you would never guess there are people under 35 who work in jewellery. We don't see them walking around, we don't see them making any of the buying decisions, and we are most definitely not meeting them where they're at.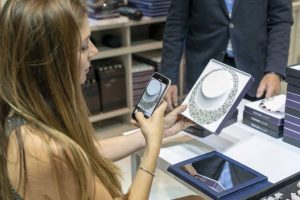 We need to be incorporating young celebrity and jewellery bloggers into our fold. Why not let them do some of the PR or social media promotions of the latest trends and styles? Why not have them do some of the video work for the shows?
Social media management is not something a young person is automatically gifted at, so it's important we actually engage those influencers who know how to do it right and how to create buzz around products, styles, and trends. Trade shows ultimately exist to build relationships, and social media influencers already know how to do that. Let's get them on board! They could walk around the show talking to attendees, asking them where their stores are located, and finding out what their social media handles are in order to make posts and help increase traffic to their stores.
My personal concierge
What I liked about the Bangkok, Liverpool, and VicenzaOro trade shows was the attention to me as an attendee. There were matchmaker meetings where someone had to go in and actually look at my website, examine my product line, and match me with an industry partner who might fit my needs. I loved this as a client. I want to know I'm important and being taken care of.
People come to trade shows for the human interaction. Having that little bit of attention goes a long way and adds a huge amount of value for me as an attendee.
As an exhibitor
A lot of factors go into the decision to exhibit at a trade show. It's a major commitment of time and money, so it's vital for exhibitors to know they are getting some value out of attending.
Where are the buyers?
It's a scenario that's all too familiar for many in our industry: I've just spent more than $20,000 to set up a booth at a trade show, but there aren't many people coming. The pool of exhibitors and Canadian jewellery manufacturers has shrunk drastically in recent years. Where are the buyers, and how can the trade show organizers think outside the box?
Having young social media influencers, as mentioned, is one step. However, as an exhibitor, I want to primarily reach stores—ideally, bigger ones. Why not do one-on-one business matchmaking meetings—and not just with smaller retail stores? Organizers could try courting some of the larger chain store buyers and others to attend the show. The trade wars are coming, which means the supply chain as it is will be disrupted. This is an opportunity for trade show management to convince bigger buyers to purchase Canadian products.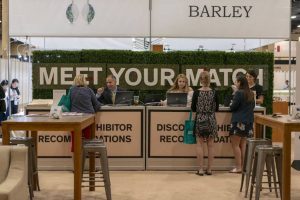 Bringing in the media
It's great the trade shows are open to industry press, but when was the last time you read a good article (and not an advertisement) about the jewellery industry in a leading Canadian newspaper? Trade shows need to do better and get some interesting angles out to the mainstream media too. As exhibitors and jewellery manufacturers, we want our pieces, our creativity, and our ingenuity to be highlighted and our stories to be told. Doing business is not so easy these days, but at the same time, people hunger for that human interest story about business owners.
Trade show organizers could profile attendees or exhibitors before and after the shows and talk about successes and innovation in the industry to attract mainstream media. They could also try highlighting any student awards—what a great way to support a young person's career by helping them promote their brand and skills!
Staying flexible
Trade shows may be in the process of evolving, but there's still a ways to go. In the meantime, what can you do before and after the show to stay ahead of the curve?
These days, it's important to try a little bit of everything. A friend of mine, who is a consultant, says in precarious times, it's important not to focus all your attention on one sales or marketing strategy. Being adaptable is your best bet. So, stick with the things that have worked for you before, but try everything from social media, online selling, and custom design to brand creation or print mail.
The most important thing you can do, however, is not to overspend in any one area. If you focus your resources on one sole strategy, you could lose out or spend needlessly. You don't have to be everything to everyone, but consumers are savvy, and what you might have thought was the bare minimum 10 years ago will not cut it now. These days, the 'bare minimum' means replying to e-mails, posting on Facebook, and providing a customer-centric experience to your clients. Most importantly, clients that have bought from you previously expect a little bit of love. Make sure you have a retention strategy or incentive program in place. Word of mouth is still the best way to make a sale!
Anita Agrawal is the CEO of Best Bargains Jewellery, a professor of international business at Centennial College, and president of the Organization of Women in International Trade-Toronto (OWIT-Toronto). She can be reached via e-mail at anita@bbjw.com.