By Lauriane Lognay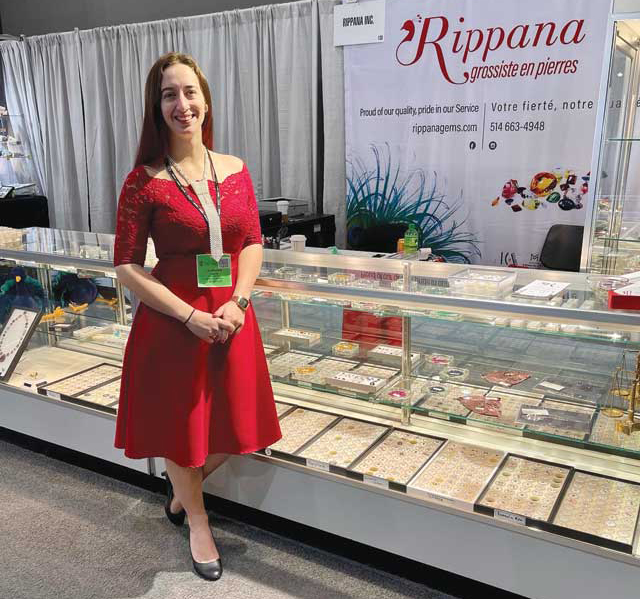 Amidst the chaos, confusion, and general global unrest as of late, it can be easy to forget many of us are connected by the same passion: gemstones and jewellery.
In these columns, I try to remain as truthful and transparent as possible. I believe this is necessary in my mission to provide jewellery professionals with a wide (and accurate) view of what is happening in the gemstone market and the industry at large. My goal is never to pontificate or take a stand, but to be 'your eyes,' and present things as they happen to allow you to form your own opinions.
This is my fifth year reviewing the Tucson gem shows for Jewellery Business. In these years, we experienced (to paraphrase some terminology from previous columns) a gemstone rollercoaster of emotions amidst an oasis of happiness and exhilaration in the desert. This year is also the 40th anniversary of the American Gem Trade Association (AGTA) GemFair Tucson, which represents a fairly positive outlook for the gemstone world.
As with previous years, Tucson 2022 was a remarkable event. A few suppliers and clients, however, were not present; for the first time in four decades (be it at the AGTA show, Gem and Jewelry Exchange [GJX], or other happenings, like Pueblo Gem & Mineral Show), the occasion saw some empty booths.
Plenty of reasons were cited—COVID and its surrounding uncertainties, for one, but also extremely high shipping costs and stringent border controls. There is no doubt these conditions made full attendance difficult, but those who were present were motivated and certainly in good spirits.
Sadly, GemFair's 40th anniversary party, which was scheduled for the event's opening night, was cancelled a week prior to the show opening as a precaution due to COVID-related concerns (organizers didn't want to create large crowds in smaller spaces). So, those celebrations will have to wait another year.
Attendance at this year's show was primarily American, but the international vendors and gem specialists who were present did not disappoint. The weather was warm and friends from all over the world were ecstatic to see each other again (myself included!).
Let's talk gemstones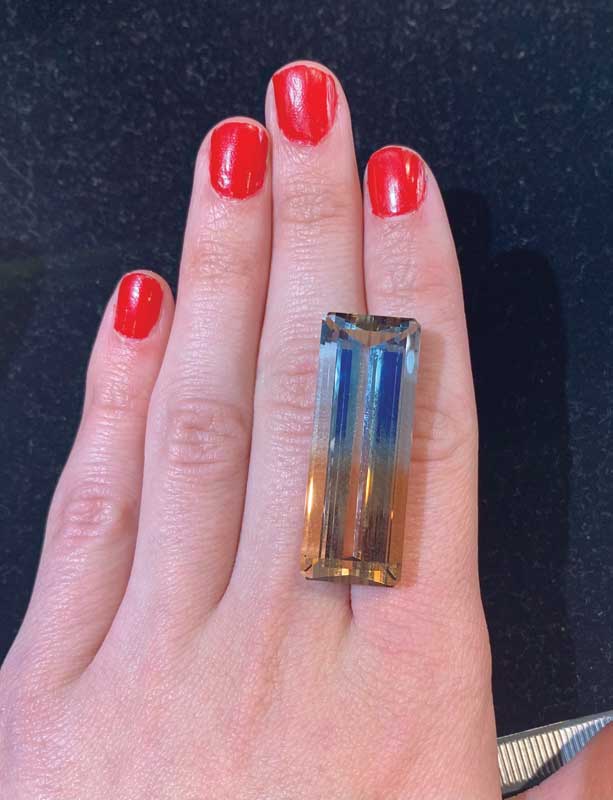 There were several significant changes this year that caught my eye:
Hiked up prices
The rough market is getting rough
Rhodonite (rough and cut) from the recent discovery in Brazil
Gem-quality Amazonite abound
Rarity in high quality
Soaring prices
I'm sure you're thinking, "Average prices change in the gemstone business all the time—this is nothing new." While this sentiment is true, the rapid inflation impacting the gemstone market right now is most certainly abnormal.
Amidst the pandemic, mines were closed for longer than ever before. Cut gemstones already on the market passed by more hands than usual due to the shortage of materials. Older stock came out to supply the rise in demand. Prices climbed to afford new gems and their shipping costs (which also skyrocketed).
Gemstone value in Tucson was higher than ever. Getting a good deal was more a question of finding the right stone, and not necessarily the right price. Good quality at good prices was scarce, at least more than usual.
We, as industry professionals, have to prepare for an eventuality where the prices will continue to get higher. Counting the closed mines and pearl farms due to COVID, continued conflict in Afghanistan and Russia (the latter impacting demantoid, alexandrite, and diamond, mainly), and rising gold prices, we should anticipate costs will continue to climb for the foreseeable future.
Rough road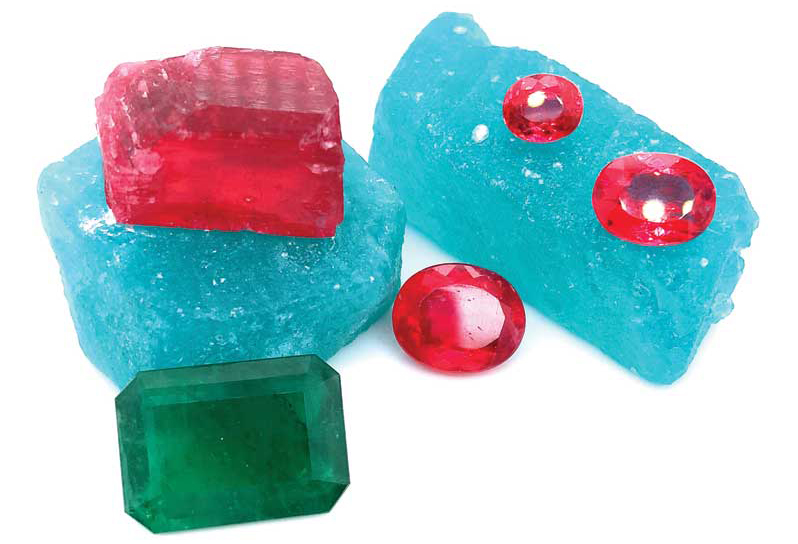 With the faceted gem world seeing higher-than-usual prices, a lot of people are turning to the rough in hopes of making a better margin. As such, the rough gemstone market is even more in demand.
While in Tucson, I was able to compare some prices from the last few years and found some had more than doubled. I saw this for Mahenge spinel, simple blue topaz, and even Tanzanite. The bigger gems were passing hands, and suppliers recognized gemstones available on the market. There is simply a higher demand than we can supply at the moment. So, the uncut rough is being passed around more than usual and prices keep getting higher. The same applies for demand on rough.
Stock shortage is a risk at the moment—one that can already be felt around the globe. This means we must be more careful of costs and availability.
Fortunately, however, this shortage can be spun as a strong selling point to your clients: the precious market has never been quite so… well, precious! Now more than ever, the price they pay for a gemstone today may not be the price they pay tomorrow.
Rhodonite and Amazonite: An unlikely combo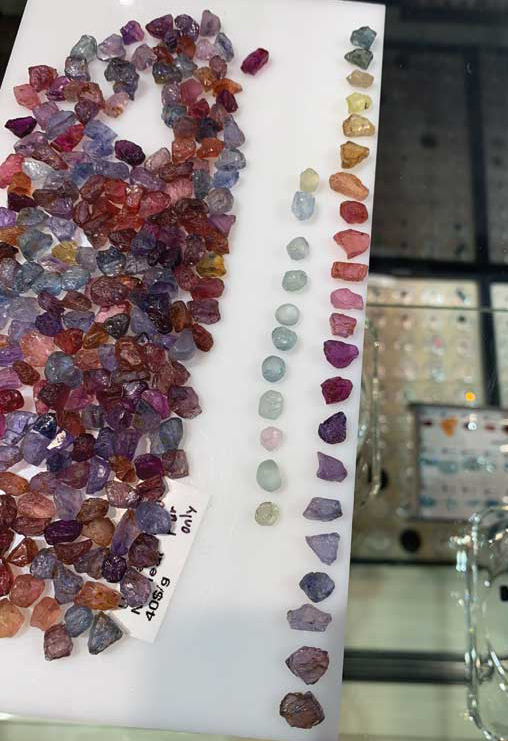 Every year without fail, Tucson plays favourites in terms of treasures. Whether a new find or a hot trend, some gems seem to flood the market one year and disappear the next (or, alternatively, make a permanent mark in our hearts and minds). This year, the more extravagant gemstones that popped out were gem-quality rhodonite and Amazonite.
Faceted fire-red rhodonite has long-been considered a rarity, but, thanks to a recent discovery in Brazil, the last two years have provided suppliers with ample time to buy the required rough and cut a panoply of red gems. Some record-breaking roughs were found, and each supplier had a few pieces to sell—some had entire cases!
With a hardness of 5.5 to 6.5 on the Mohs scale, one has to be careful in handling this gem. While rings and bracelets are not advised, rhodonite works wonderfully in earrings and pendants. The fine colour of this gem lends itself to a unique look without an exorbitant price tag.
Amazonite was the unlikely gem this year, with never-before-seen gem-quality rough also appearing from Brazil. Some specimens could be observed from time to time in Vietnam, but this new source offers renewed colour and clarity. (I wouldn't be surprised if the quality found itself a marketed name soon!)
With a hardness of 6 to 6.5 on the Mohs scale, making jewellery with this new quality wouldn't be so bad, but, with a perfect cleavage, there is always a risk in working with it. This is probably also why the rough was treated for stabilization. This treatment is not common for this stone and will likely be subject to more studies in the near future.
Suppliers who specialize in rarity had a great show, as did commercial vendors, high-end exhibitors, and those with low-quality stock. The downside of the show, however, impacted the middle class. Medium-quality gemstones were not as desired or in demand compared to the other years. This, in addition to lower attendance numbers, meant it was not a great show for these vendors.
Change for the better
The Tucson shows were far from normal this year, but, nonetheless, the event was a bright light, as well as a good start to what I hope is the end of a particularly strange era. Optimism was in the air, and people were excited and happy to finally be back among their gemstone family in the desert.
While the show in its essence will never change, it behooves us to adapt our way of thinking and doing things. The market is a flowing river, and we just have to follow its course. It will never be stagnant, and you cannot fight against it; the difference depends on if you give yourself a chance to navigate.
We must let ourselves to adapt, as this will allow the soul of Tucson to remain. Gemstone sources change, must-have colours evolve, conflict happens, and  new discoveries occur. Jewellery trends change and so do we. Adaptability will be and has to be our strongest point in all this. Indeed, it is only once we assess and adapt that we are able to shine.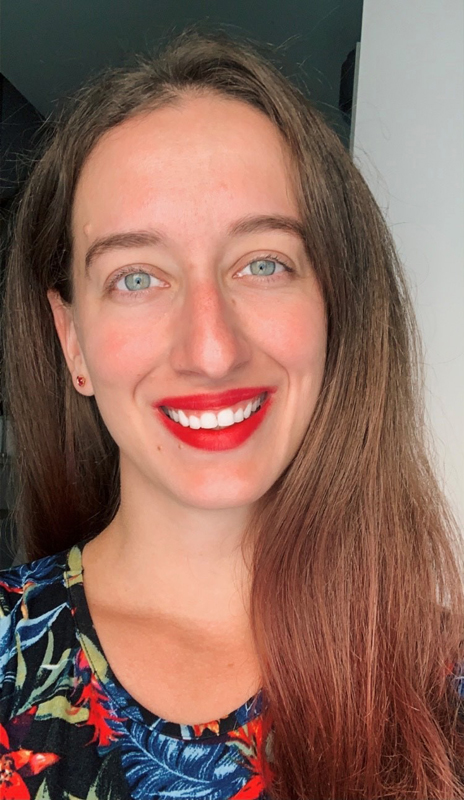 Lauriane Lognay is a fellow of the Gemmological Association of Great Britain (FGA), and has won several awards. She is a gemstone dealer working with jewellers to help them decide on the best stones for their designs. Lognay is the owner of Rippana Inc., a Montréal-based company working internationally in coloured gemstone, lapidary, and jewellery services. She can be reached via email at rippanainfo@gmail.com.