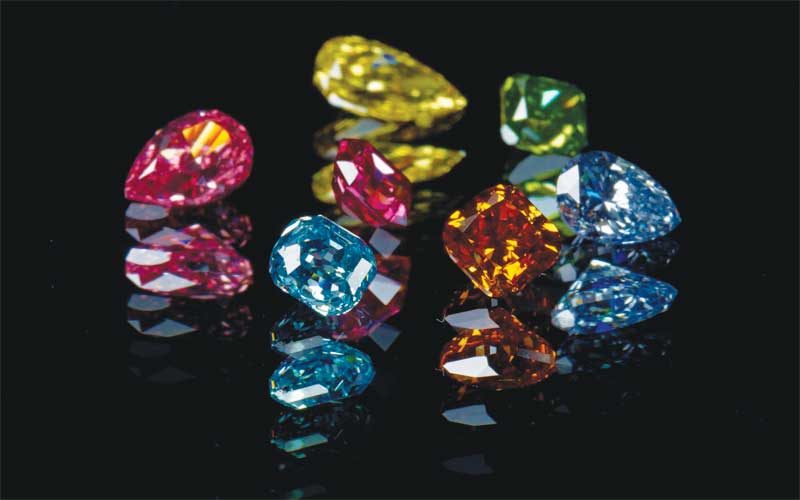 By Karen Simmons
It's no surprise, coloured diamonds produce record-breaking sales at Christie's and Sotheby's auctions around the world year after year. However, even Warren Buffett's venture into retail diamonds wasn't triggered by coloured diamonds when he first entered the industry in the '90s, but his sense for stability and profitability clearly proved to be right on target.
Who's buying?
Today, high net worth individuals (HNWIs) are buying investment-grade diamonds, both colourless and coloured. Passion may be in play, but the rising tide of big profit sales has trickled down to smaller-carat deals in local markets both in white and coloured diamonds.
Since coloured diamonds have a greater rarity and increased value, it's no wonder they're a hot commodity. Take the Hong Kong real estate tycoon, Joseph Lau, who bought nearly $77 million worth of diamonds within two days in November 2015. He first purchased a vivid pink diamond named Sweet Josephine weighing just over 16 carats for nearly $28.5 million at Christie's "Magnificent Jewels" auction in Geneva.
On day two, this time at Sotheby's, Lau set an all-time record for a single piece sale— a very rare fancy vivid blue diamond, 12.03 carats to be exact, dubbed the Blue Moon. Despite already having a collection of fine wines, art, and other jewellery, billionaire Lau saw fit to expand his alternative investment portfolio in the most scintillating manner.
Knight Frank Luxury Investment Index's (KFLII) annual report for 2015 revealed tangible assets, such as gemstones, beat the average seven per cent growth rate when compared to 10 other asset classes.

Multi-faceted value
The 4Cs—carat, cut, colour, and clarity—though a general rule of thumb and famous for simplifying diamonds for consumers, might not be as savvy a tool for  investors interested in coloured diamonds. Remember, coloured diamonds are a different stone altogether. Not long ago, yellow tinted stones were considered unappealing at the retail level and virtually absent from the auction block!
The once-coveted clarity grade, important to colourless stones, is not a major assessment factor concerning rare coloured diamonds. Would you be surprised to learn a five-carat VVS2 yellow stone falls flat in value when compared to a three-carat vivid blue diamond? Indeed, coloured diamonds are not just another sparkly stone.
Esthetics rule and earn price premiums when grading a coloured diamond. Colour saturation and dispersion is critical. High levels of dispersion increase value, especially when colourless frames, or patchy appearances, are absent.
Unlike colourless stones, shallow coloured diamonds earn a premium, too. When a coloured diamond is cut free-style, it lacks detailed symmetry, increasing its value.Facet alignment trumps symmetry in that it can enhance the colour intensity of coloured stones.
Even shape can influence value more than you might expect. Once again, the factor of rarity enters the equation. Yellow diamonds in the fancy colour category are oval shaped only about eight per cent of the time. At that, only one to five actually reaches the market in a given year.