By Jacquie De Almeida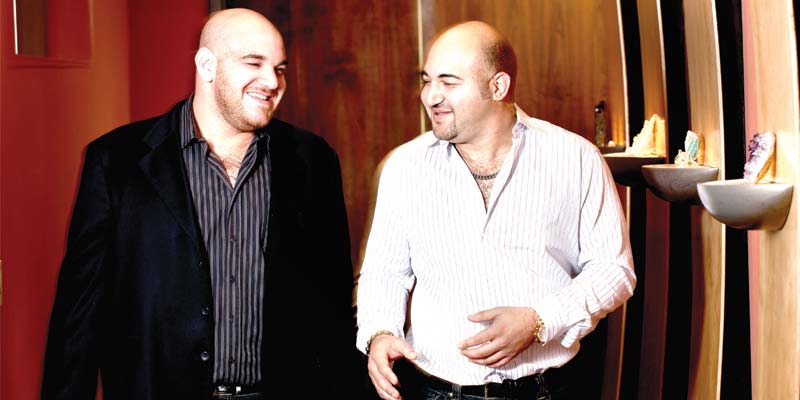 What do you do when you have an idea to start a new jewellery business? If you're Zaven Ghanimian and his brother, Henry, looking to your father for guidance is a no-brainer, particularly when dad happens to be Simon Ghanimian, the man behind Simon G.
His advice?
"That's a tough question," admits Zaven, or Zee as most people call him. "He's given us so much. But I'd have to say sticking to what we do best is probably number one. It's so easy to go off on a tangent or an area of design we think is really unique, but might be too trendy or have a limited lifespan. Our core items have kept us where we are."
Where they are is four years into a venture known as Zeghani by Simon, a company the brothers started with their father. (Its name is a convergence of sorts, combining the first two letters of Zaven's nickname and the first five of their family name. The use of 'Simon' is a nod to the brand's pedigree.)
Their goal was to cater to a niche market by creating a designer boutique brand at an affordable price. For that, the company looked to its use of materials when producing its lines of bridal and fashion jewellery. While many manufacturers (including Simon G) focus on 18-karat gold and platinum engagement rings and wedding bands, Zeghani by Simon designs with 14-karat gold and platinum's sister metal, palladium. It's a combination allowing retailers the ability to meet the needs of a bridal customer who isn't interested in breaking the bank, but is still out to impress.
"We had people approach us asking for an affordable piece of jewellery, an engagement ring specifically, that fit in the $2500 to $3500 range, including a centre stone," recalls Zaven, the company's chief executive officer (CEO), designer, and head of marketing. "For Simon G, that was out of the question because most of our semi-mounts were that price. We felt this price range was a sector of the market that is always looked down upon because of the [lesser] quality out there. We knew we could make something to fit that range with better quality and a brand name to support it."