Practice makes perfect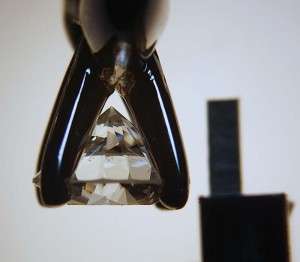 A second method for arriving at a total depth measurement is one I've described as 'indirectly direct.' This technique requires the stone's culet or keel-line is visible and its table unobstructed. I use only dark-field or direct lighting from below the diamond, place a diffusion filter over the well of my microscope, and raise the microscope head to accommodate my hands. Placing the base of a digital micrometer flat on the table of the stone, I lower the rod until I can see it below and behind the pavilion's silhouette. Looking through only one eyepiece to reduce the effect of parallax, I stabilize the shadow's image and try to keep the view precisely parallel to the table's surface. I then raise the micrometer's rod slowly until it is even with the culet's silhouette.
This method provides a direct reading of the total depth measurement without the need for sight estimation. Further, it can be applied to fancy shapes, as well as round brilliants.
Steady hands, constant checking for parallel, and plenty of practice can yield surprisingly accurate results. In general, I find my margin of error for diamonds smaller than 7 mm is in the three to five per cent range. I tend to have less reliable results on larger stones because of depth of field issues that blur the simultaneous view of the culet and the micrometer's rod without adjusting the focus.
As appraisers we face many challenges, and intended users of our reports should be made aware of those that could significantly affect the credibility of our conclusions. How we determine the carat weight of primary stones certainly falls into that category. Equally important is our opinion of the margin of error. I arrive at my presumed margin of error by tracking my accuracy with diamonds of verified weight and dimensions in similar mountings. If you master these techniques and practice with known samples, you may be surprised by the level of accuracy that is possible. Whether we achieve a one per cent or a 10 per cent margin of error, the users of our reports should understand the extent to which they can rely on our results.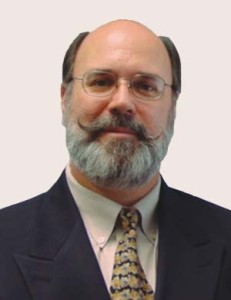 Mark T. Cartwright, ISA CAPP, ICGA, CSM-NAJA, GG (GIA) is president of The Gem Lab, I.C.G.A., an independent American Gem Society (AGS)-accredited gem laboratory. He has been a jewellery designer, goldsmith, gemmologist, and appraiser for more than a quarter century. Cartwright can be contacted via e-mail at gemlab@cox-internet.com.