Homegrown success: Canada's triumphant diamond industry
August 24, 2017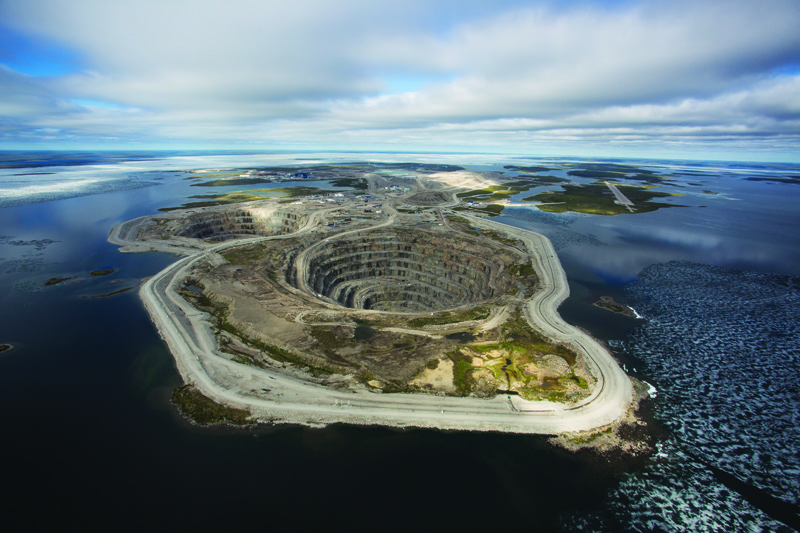 By Pierre Leblanc
At 150 years old, Canada has much to be proud of. Beyond its stunning and diverse landscapes, the wealth of our diverse natural resources are as great as the country is vast. The Canadian diamond industry marks just one of our national successes.
Exploration
Diamond exploration started in the 1960s with De Beers. The company was exploring for minerals which inevitably lead to the presence of diamonds. However, it was Stewart Blusson and Charles Fipke who, in 1991, discovered what was to become Canada's first diamond mine. It was named 'Ekati' after a Dene word meaning 'fat lake,' and this discovery triggered a massive diamond exploration rush. Shortly after in 1994, the kimberlite pipes of the Diavik Diamond Mines were discovered by Aber Diamond Corporation.
Mining matters
The two initial discoveries lead to the construction of two diamond mines: Ekati and Diavik. The Ekati mine started to produce diamonds as recently as October 1998 and it was followed by the Diavik mine in May 2003.
In just a short five years, Canada became the third largest producer of gem diamonds in the world, after Russia and Botswana. These two mines are still in operations today.
More mines were built over time: Jericho in Nunavut, Snap Lake, and Gahcho Kué in the Northwest Territories, Victor in Ontario, and Renard in Quebec. In Canada, eight companies are listed on the Toronto Stock Exchange (TSX) as being involved in diamond mining.
However, there have been some challenges along the way. Nunavut's Jericho mine faced a perfect storm back in 2006 when faced with technical challenges, a lower than expected grade, and a crushing shift in the exchange rate with the U.S. dollar. Since international diamond sales are done in U.S. currency, it meant reduced income at a time when expenses were increasing as 2006 proved a short winter road season and did not allow for the economical resupply of the mine.
De Beers' Snap Lake mine had difficulties, too, which included delays, technical challenges, and lower prices for their diamonds. Eventually, De Beers put the mine up for sale, and it's still on the market today.
Despite this, Canada has produced in excess of 180 million carats for a total value of more than $30 billion. The vast majority of production was exported to Antwerp, the world's centre for rough diamonds, while some were exported directly to Israel and India, thus contributing to the Canadian trade balance.
Environmental awareness
Diamond mining is one of the cleanest forms of mining since it separates the diamonds mechanically, and does not use chemicals such as sulfuric acid.
Diamond mining is also subject to stringent environmental standards in Canada, which includes a remediation fund. Diamond mines are required to have a reclamation plan in place, so the site can be remediated when it closes. Part of this plan includes an on-hand bond large enough to support the remediation at any point during the lifespan of the mine. Fortunately, taxpayers do not pay for the clean-up of mines such as Yellowknife's Giant gold mine, which went bankrupt.
Most Canadian mines maintain ISO14001-certified environmental management systems. All mines have extensive environmental monitoring programs supporting scientific and traditional knowledge studies that are aimed at increasing knowledge and understanding of a variety of species such as wolverine, wolf, caribou, grizzly bears, and aquatic ecosystems.
For instance, the Diavik mine operates a large-scale wind farm to develop a better understanding of how wind mills operate in the Arctic's extreme climate. These initiatives hope to help with the deployment of clean power production in this fragile environment.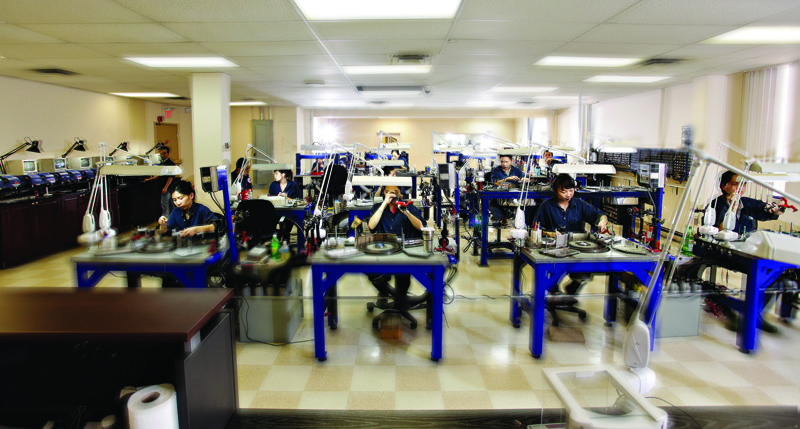 Benefiting communities
Though not overtly recognizable, the diamond industry has proved beneficial to Canadians at large, and particularly the adjacent aboriginal communities which receive financial compensation from mining companies as well as sharing in the royalties, training, employment, and business opportunities available.
In the Northwest Territories, diamond mining has led to the creation of aboriginal businesses such as Tli Cho Landtran Transport Ltd. This Yellowknife-based business provides regular transportation services and is experienced with ice road travel—the lifeline for diamond mines in the Northwest Territories.
The diamond industry has generated thousands of jobs in Canada throughout the industry's many segments such as exploration and mining, diamond cutting and polishing, and various support services involved in the building and operation of mines.
Further, the industry has enabled marketing strategies associated with branding diamonds as 'mined, cut, and polished in Canada.'
Quality control
Early on, Canadian diamonds were sought after because they originated in exotic and beautiful Northern Canada, and were mined responsibly and sustainably. However, this eventually led to misrepresentation of generic diamonds in the global market as Canadian.
In 2002, under the leadership of the Competition Bureau of Canada, the Canadian diamond industry came together to establish the Voluntary Code of Conduct for the Authentication of Canadian Claims (The Code). The Code, which is managed by the Canadian Diamond Code Committee (CDCC), sets the standard for authenticating Canadian diamond claims based on records and transparency. The CDCC can trace a Canadian diamond to its mine of origin if it meets the minimum standard.
Further, in 2009, the Ontario government supported the establishment of a Toronto-based diamond bourse, a secure trading facility allowing accredited members to benefit from the use of other diamond bourses across the world through membership in the World Diamond Bourse Association.
Canada is also an active participant in the Kimberley Process (KP) which regulates the world's trade of rough diamonds in order to prevent the sale of illicit diamonds which otherwise would support rebel groups and criminal activity such as money laundering.
The road ahead
Significant strides have been made to secure industry growth. Today, diamond exploration is very active in Canada with a number of projects showing potential. These include the Peregrine Diamonds Ltd. Chidliak project on Nunavut's Baffin Island and the Shore Gold Inc. Star and Orion projects in Saskatchewan which contain millions of tonnes of kimberlite material, the host rock of diamonds. As many as 20 companies are listed on the TSX Venture Exchange in search of another world-class project.
Diamond mining in the Northwest Territories was an important factor in the decision to build a bridge over the Mackenzie River. The Renard project made it possible to extend Route 167 from Temiscamie, an all-weather road to the mine. This new road aims to expand opportunities in line with the Québec government's Plan Nord which aims to maximize the natural resource's potential of northern Québec.
Altogether, the industry has contributed significantly to the coffers of all levels of government.  Approximately 40 per cent of diamond mining operations will be collected in royalties, direct and indirect taxes, and levies which could be reinvested in Canadians.
Like Canada, with on-going diamond production and exploration suggesting new projects, the industry has a sparkling future. 
Pierre Leblanc is the president of Canadian Diamond Consultants Inc. He is a former vice-president of corporate affairs at Diavik Diamond Mines Inc. He is a founding director of the Voluntary Code of Conduct for Authenticating Canadian Diamond Claims, and has been involved in the Canadian diamond industry since September 2000 where he has promoted the Canadian diamond industry in Canada and abroad. Leblanc can be reached via e-mail at canadiandiamondconsultants@bell.net.
Endnotes:
[Image]: https://www.jewellerybusiness.com/wp-content/uploads/2017/08/20150702-073A9798.jpg
[Image]: https://www.jewellerybusiness.com/wp-content/uploads/2017/08/Crossworks-246-b.jpg
Source URL: https://www.jewellerybusiness.com/general/homegrown-success-canadas-triumphant-diamond-industry/
---