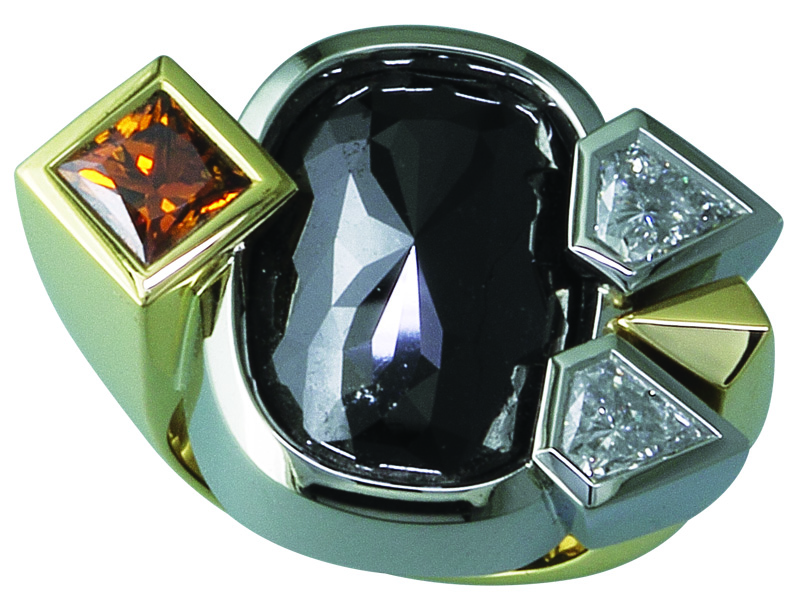 This year at American Gem Trade Association's (AGTA) GemFair Tucson, I found two interesting diamond crystals. The first is an octahedron with terminations looking like they have been dipped in melted diamond. The other, at first glance, looked like it had been faceted to this shape, but it is natural with 19 faces.
A few years ago, a client came in with a diamond octahedron crystal he had purchased on eBay. The crystal shapes were symmetrical and there were obvious trigons, or naturally formed concentric triangular growth lines, on several of the surfaces. The interior of the crystal was heavily included, and it was not a candidate for faceting. My client wished to have the stone cut into two pieces: the larger pyramidal stone was to be set in an engagement ring for his fiancé, while the remaining smaller pyramid would be set in his wedding band. This seemed simple at first, but when I sent the crystal to a Canadian diamond cutter, he declined the job because he was afraid the stone would self-destruct from the internal stress combined with the vibration of the saw. Finally, I was able to have the stone sent to Antwerp and cut there. The project was a success, but importing it back into Canada proved problematic as the original crystal had a Kimberley Process (KP) certificate. Once it was cut in two pieces, its certificate was no longer valid. We had to get a new one before it could be returned.
Black diamonds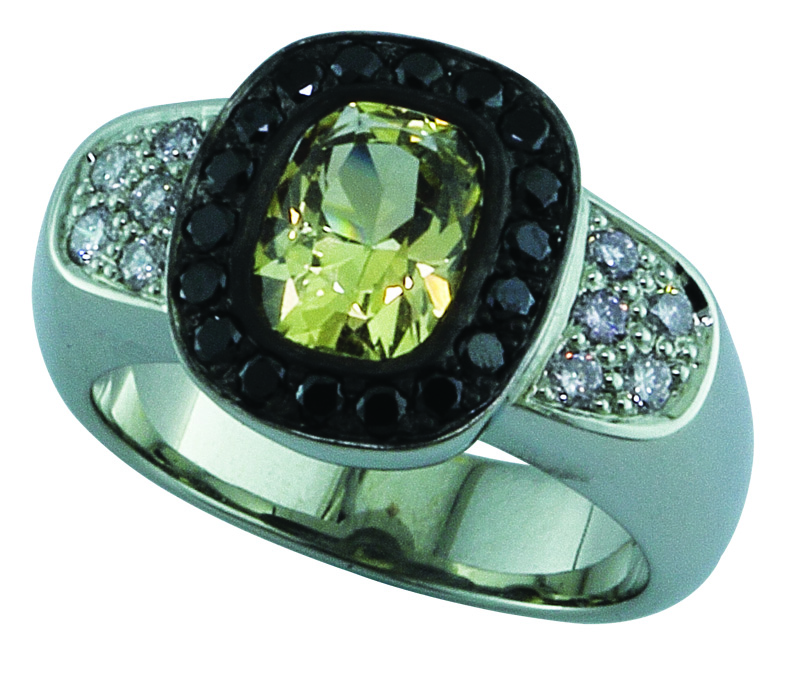 Black diamonds are popular now and can be had in many shapes, sizes, and facet styles. They can be used as centre stones in non-traditional engagement rings and combined with white diamonds for a sophisticated black and white pallet. Natural colour black diamonds are very rare, therefore most of the black diamonds I see have been treated with radiation, high temperature and high pressure, or a combination of these. Lab-created black stones are in the marketplace, too. Treated black stones typically start out as heavily included white diamonds that would otherwise be relegated to the industrial market.
You need to be careful when purchasing them and examine their surfaces for pits and other anomalies reducing their attractiveness. Melee black diamonds are usually brilliant cut which makes them easy to use for pave and claw setting. Larger stones can be full-cut as well, but here you end up paying for weight that does nothing to enhance the beauty of the stone since there is no chance of any light being returned from the pavilion. I prefer to use rose-cut black diamonds in a larger size, as there is more value for its weight. Plus, the fully faceted crown gives maximum glitter.
The ring illustrated has a large rectangular cushion-cut black diamond which I accented with a natural fancy brown princess-cut diamond and a pair of very white kite-shaped diamonds. The client was recently divorced and this was her anti-wedding ring.
Another client's husband had gifted her with a pale yellow sapphire and equally pale pink round melee diamonds. She wanted them set in a ring, but also wanted a ring of some substance. Surrounding the yellow sapphire with a dramatic halo of black diamonds (with black rhodium plating for consistent blackness), enabled both the soft yellow and pink stones to have a dramatic effect.
Taking alternative diamonds to the extreme, a geologist client came to me with three pieces of an industrial diamond drill bit. She had been working on this particular well when the drill bit got stuck in the hole and had to be blasted out. As a souvenir, she requested that we set the three pieces in a necklace. I designed one of my trademarked interCHANGE clasps which she wears on a stainless steel chain and accented the elements with round black diamonds.