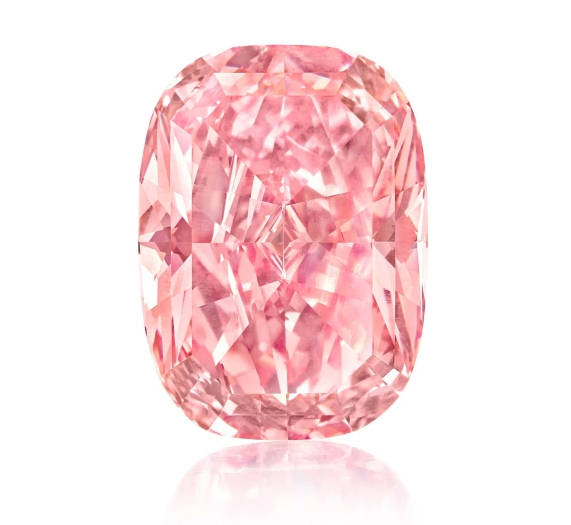 A show-stopping fancy vivid pink diamond is expected to sell for up to $27.5 million (US $21 million) when it goes under the hammer at Sotheby's next month.
Weighing 11.15 carats, the Williamson Pink Star is the second largest internally flawless fancy vivid pink diamond to ever appear at auction, Sotheby's reports. The cushion-cut stone was crafted by Diacore from a 32-carat rough recovered from Tanzania's Williamson Mine.
"The discovery of a gem-quality pink diamond of any size is an extremely rare occurrence—something that, with the recent closure of the Argyle mine, seemed until recently highly improbable," says Wenhao Yu, chair of jewellery and watches at Sotheby's Asia. "Driven by a limited supply and rising demand, prices for top-quality large pink diamonds larger than five carats have increased exponentially over the past decade, serendipitously setting the scene for the appearance now of this one-of-a-kind stone."
The Williamson Pink Star will be offered in a stand-alone, single-lot auction in Hong Kong on Oct. 5.
For more, click here.