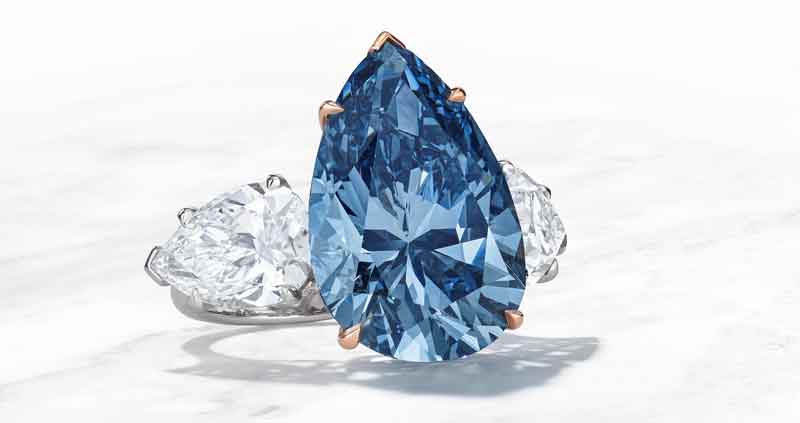 A fancy vivid blue diamond of 17.61 carats is expected to sell for up to $67.5 million (US $50 million) when it goes under the hammer at Christie's this November.
Dubbed "Bleu Royal," the pear-shaped diamond, which will lead the Geneva Magnificent Jewels sale on Nov. 7, is the largest of its kind to ever to be offered for sale at auction, Christie's reports.
"This is a true miracle of nature," says the international head of Christie's Jewellery, Rahul Kadakia. "Over our 257-year long history, Christie's has had the privilege of offering the world's rarest gems at auction, and Bleu Royal continues this tradition. We are proud to offer collectors the opportunity to own a diamond fit for royalty."
Bleu Royal, which has flawless purity, has remained part of an important private collection for the past 50 years, Christie's reports. This is the first time the stone, set in a ring, will be presented for sale at auction.
Driven by collector demand and an increasingly limited supply, prices for top-quality coloured diamonds have increased exponentially in recent years, the auction house says.
In Christie's auction history, it has only ever offered three fancy vivid blue diamonds larger than 10 carats:
The Bulgari Blue (10.95 carats), which sold for US$15,762,500 (New York, October 2010)
The Winston Blue (13.22 carats), which sold for sold for US$23,795,372 (Geneva, May 2014)
The Oppenheimer Blue (14.62 carats), which sold for US$57,541,779 (Geneva, May 2016)