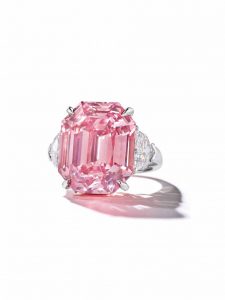 While more than 300 diamond, gemstone, and pearl pieces will hit the auction block at Christie's Magnificent Jewels sale in Geneva next month, the auction house says one piece in particular is on track to stand out. The 'Pink Legacy,' an 18.96-carat fancy vivid pink diamond, will lead the sale on November 13.
This rectangular-cut gem is the largest of its colour Christie's has ever auctioned, and only the fourth larger than 10 carats.
"To find a diamond of this size with this colour is pretty much unreal," said Rahul Kadakia, the auction house's international head of jewellery, in a recent article. "You may see this colour in a pink diamond of less than one carat, but this is almost 19 carats and it's as pink as can be. It's unbelievable."
The diamond is also Type IIa and chemically pure, which is uncommon for pink diamonds due to stresses inherent in the formation process that causes the colour. It is expected to fetch up to US$50 million.
"The Pink Legacy will be exhibited on a global tour prior to being auctioned on 13 November at the Four Seasons Hotel des Bergues," said Kadakia. "Its exceptional provenance will no doubt propel it into a class of its own."
Last November, Christie's set a world record for per-carat auction price for a pink diamond with the sale of the 15-carat 'Pink Promise,' which drew US$32.4 million (US$2.1 million per carat).