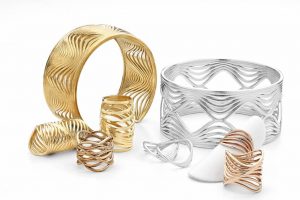 Designers interested in testing their skills in an international context can now enter the 2019 Saul Bell Design Award Competition. Contest organizer Rio Grande issued an official call for entries this week, inviting submissions from designers worldwide for a deadline of October 25.
"The Saul Bell Design Award Competition offers designers a challenge unlike any other—to compete on an international level, to have their work judged by iconic names in the jewellery industry, and to be celebrated alongside a list of amazing winners and finalists," said Jamie Gros, Rio Grande's creative director.
The competition accommodates entries across nine categories, including:
gold/platinum;
silver/Argentium;
enamel;
hollowware/art objects;
alternative metals/materials;
emerging jewellery artist 18 years old and younger;
emerging jewellery artist 22 years old and younger;
couture/fine jewellery collection; and
fashion/bridge jewellery collection.
The judging process is broken up into two stages. In the first, five judges determine a list of finalists based on each entry's originality, proposed material use, and esthetics. Finalists then submit completed pieces to be examined up close, in the hand, and on models by a second group of five judges. The second panel evaluates submissions based on incorporation of materials, wearability, and workmanship.
"I really appreciated the two rounds of judging in the competition, since they have the eyes and tastes to see deeper and to identify and appreciate all the effort I put into each design in this collection," said Sophia Hu, who won Best of Show in the 2018 competition for her 'Origami—Window with a View' collection.
To learn more about the competition or to enter, visit the awards' website.