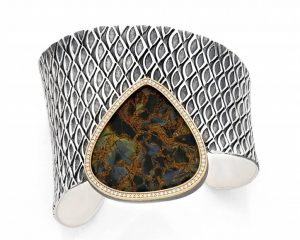 When it comes to jewellery design, Canada has no shortage of talent. This was especially apparent in the crop of Canadian entries to this year's Saul Bell Design Award competition, where four Canuck designers took home prizes in three of the contest's nine categories.
Silver/Argentium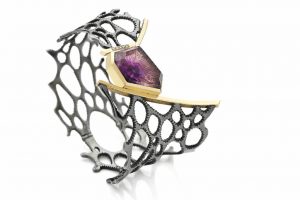 Canada went for gold in the silver/Argentium category, taking both first and second place.
Matthieu Cheminée of Montréal came in first with his globally inspired piece 'Itado.' Featuring silver, 18-karat yellow gold, diamonds, and pietersite, the piece was named for a Bambara phrase meaning, 'It is for you and you deserve it.'
"I have a passion for ethnic techniques from around the world," said Cheminée. "I am fascinated with the know-how, the transmission of the craft, and the transformation of raw or recycled material into beautiful ornaments by the gold and silversmiths of those different countries."
Placing second was another Québécois designer, Caroline Rivière, with a bracelet in oxidized sterling silver, 18-karat gold, amethyst goethite quartz, and diamonds. Made from a silver plate, this reef-inspired piece is named 'Koral.'
Fashion/bridge jewellery collection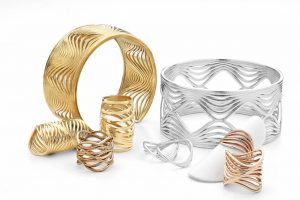 The motion-focused 'Wave' collection led Burnaby, B.C.-based designer Kwabena Abeney to success. Abeney earned first place for the collection, which she says "incorporates motion across its designs to symbolize continuous progress."
The collection is crafted with a wide range of materials, from nylon and steel to precious metals, and is meant to not only reflect progress, but also inspire it.
"Each piece is meant to motivate progress in a different way," said Abeney.
Emerging jewellery artist 22 years of age and younger
Torontonian Hoi Yi Lai took first place in this category for her piece, 'Courage.' The latest in a collection that transforms meaningful words into wearable art, her entry features sterling silver and a pair of tourmalines.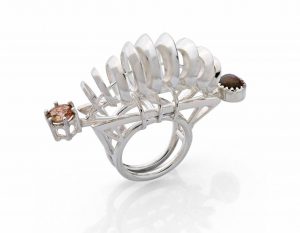 "This piece is about the relationship between jewellery and the wearer and how jewellery can affect people," said Yi Lai.
The contest results were announced by organizer Rio Grande at a gala dinner on May 20, during the company's Santa Fe Symposium in Albuquerque, N.M. For the full list of winners, click here.