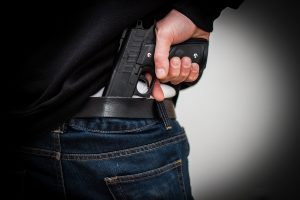 In response to a string of recent armed robberies, the Canadian Jewellers Association's (CJA's) Crime Prevention Program (CPP) and Jewelers Mutual Insurance Group have teamed up to inform retail jewellers about the threat. The organizations have released an alert written by insurance expert and frequent JB contributor David Sexton, offering tips to help jewellers prepare for, prevent, and safely endure such attacks.
According to the alert, Canadian retail jewellers have suffered seven armed robbery attacks since the beginning of 2018. Of these, five took place in the Greater Toronto Area (GTA), with the other two split between Windsor, Ont., and Québec.
The alert begins by covering precautions jewellers can take to help deter criminals from targeting their businesses. For instance, Sexton recommends following observable security procedures, personally greeting each visitor to the store, and creating a 'suspicious incidents log' to help ward off robbers and keep staff aware.
If an armed robbery does occur, Sexton warns co-operating with the robber is of paramount importance to preventing injury to you, your staff, and any customers onsite. He recommends waiting until the robber has left and all doors have been locked to activate any alarms. Above all, it is crucial for the jeweller to remain calm and set an example for his or her staff.
Following a robbery, Sexton says, retailers should discontinue business and only allow emergency responders and law enforcement onto the premises. It is also important not to discuss details of the incident until all police interviews are complete.
To read the full alert and get more details on protecting against armed robberies, click here.