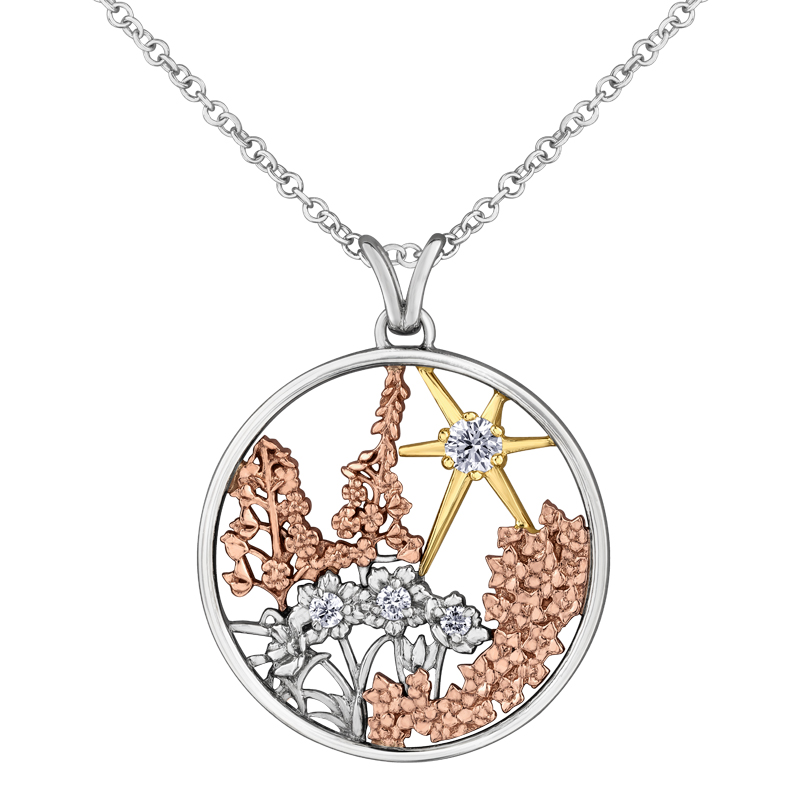 Canada's provincial and territorial flowers are the inspiration behind a new jewellery line by award-winning Toronto designer, Shelly Purdy.
Crafted in 14-karat Canadian certified gold and featuring Canadian diamonds, the 'Canadian Flowers' collection is more than a year in the making, Purdy says. It features designs inspired by the Great White North's official flowers, including Ontario's trillium, Saskatchewan's western red lily, British Columbia's dogwood, Prince Edward Island's lady's slipper, and more.
"It's always a gift to find a provincial flower in the rich Canadian wilderness," Purdy says. "Spotting these familiar and symbolic flowers is a true delight, inspiring me to create a precious Canadian diamond and gold provincial and territorial flower collection to celebrate our country!"
The 49-piece collection, which is a collaboration between the designer and Maple Leaf Diamonds, features nine garden medallion necklaces, 10 flower pendants, 10 flower stud earrings, 10 flower rings, and 10 flower bracelets. Of the garden necklaces, one combines the flowers of the three territories and the other showcases the flowers of the Maritime provinces.
"I've always wanted to create a Provincial Flowers Collection, and it wasn't until the collaboration with Maple Leaf Diamonds that I had the dream-team to build this," Purdy says. "It's been a major undertaking and I'm so proud of the details that went into each piece. I hope our time and passion resonates with Canadians and nature lovers everywhere!"
Each flower has its own story within the rich history of each province and territory. Many were chosen by school children because of their beauty and abundance, while others are recognized for their endangered status.
"Maple Leaf Diamonds is proud to have collaborated with Shelly Purdy for the past seven years," says Cameron Gillies, senior vice-president of sales for Corona Jewellery Company, owner of the Maple Leaf Diamonds luxury brand. "Shelly's latest collection—Canadian Flowers—is indicative of her passion for the natural beauty of Canada. By creating a collection focused on Canadian diamonds and Canadian certified gold, her incredible artistic flair for all things Canadian shines through."
To view the complete collection, click here.
Jewellery Business recently spoke to Purdy about her career and experience in the Canadian jewellery industry. To check out the exclusive interview, click here.