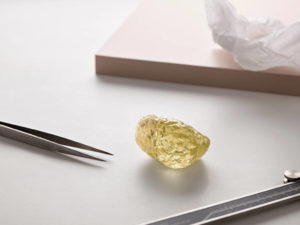 New ground has been broken at the Northwest Territories' Diavik diamond mine. Three years after the discovery of the 187.7-carat Foxfire Diamond, Diavik has broken its own record for the largest gem-quality diamond ever found in North America.
This new discovery, a 552-carat yellow diamond, was found during a screening process in October. With dimensions of 33.74 x 54.56 mm (1.3 x 2.1 in.), the gem bears abrasion markings implying it is lucky to have made it through the recovery process intact.
"This incredible discovery showcases what is truly spectacular about Canadamark diamonds," said Kyle Washington, chair of Dominion Diamond Mines, which co-owns Diavik with Rio Tinto. "The colour and texture are a unique example of the journey natural diamonds take from their formation until we unearth them."
Dominion says the diamond may be subject to further examination, as it has geologically unique colour, texture, and structure characteristics. Its value has yet to be determined.
The company is currently in the process of selecting a partner to cut and polish the diamond, which will not be sold rough. As a point of comparison, the Foxfire Diamond was cut and polished into two brilliant-cut, pear-shaped stones weighing 37.87 and 36.80 carats, respectively.
"Our Diavik mine has produced some of the most beautiful diamonds in the world, and this one certainly tops the list," said Washington.