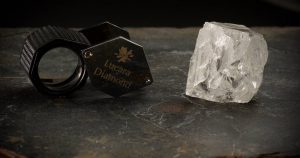 Vancouver-based producer Lucara Diamond Corp. has added another large diamond to its roster of discoveries. Recovered from the company's Karowe mine in Botswana, this white gem weighs 327 carats.
The discovery comes only a few weeks after Lucara found a 472-carat diamond in the same mine, bringing its 2018 total of diamond finds greater than 100 carats up to eight. Both the 327- and 472-carat gems will be for sale as part of an exceptional stone tender (EST) the producer intends to hold in June.
These two diamonds, along with any others included in the tender, will be available for viewing in Gaborone, Botswana, between June 10 and 19, with the tender closing June 19.