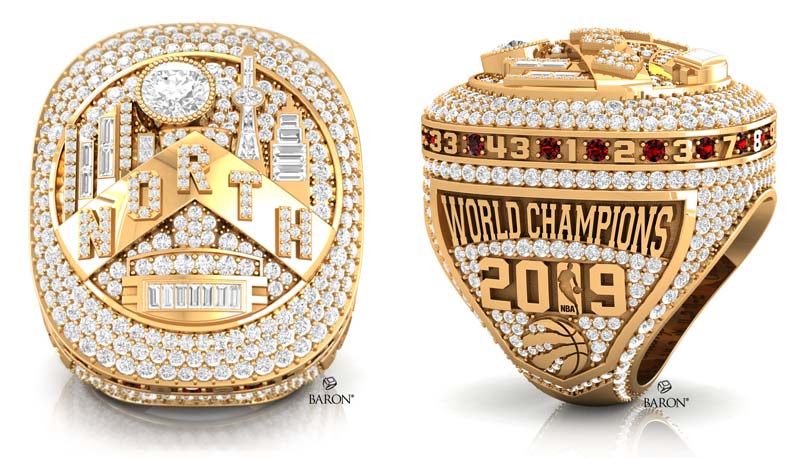 The artistry of a Windsor, Ont.,-based ring-maker took centre stage at the 2019-20 NBA season opener in Toronto on Tuesday night with the presentation of the Toronto Raptors' 2019 world championship rings.
Created by Baron Championship Rings, the piece is the largest NBA championship ring ever made. It features more than 640 Canadian-mined diamonds (14 ctw), as well as 16 rubies representing each championship team member, and a 1.25-carat diamond to signify the league's Larry O'Brien Trophy. Custom-cut baguette diamonds create a visualization of the Toronto skyline.
The inside of the ring features personalized messages unique to each player, a ruby set inside a maple leaf, and the championship series scores.
Finally, the face of the piece is comprised of 74 diamonds—representing the team's total wins for the 2018-19 season.
"This isn't just a ring for the Raptors; it's a ring for the City of Toronto and the country of Canada," says player, Kyle Lowry. "The details in the ring reflect things that are important to us and are symbolic of our championship season. I think it's one of the best rings in the history of the NBA."
"Every Canadian, whether a basketball fan or not, couldn't help but embrace this Raptors team and celebrate what they accomplished," adds Peter Kanis, president of Baron Championship Rings. "We were thrilled to be able to contribute to the team's celebration of the moment by creating this very special ring with so many uniquely Canadian details."