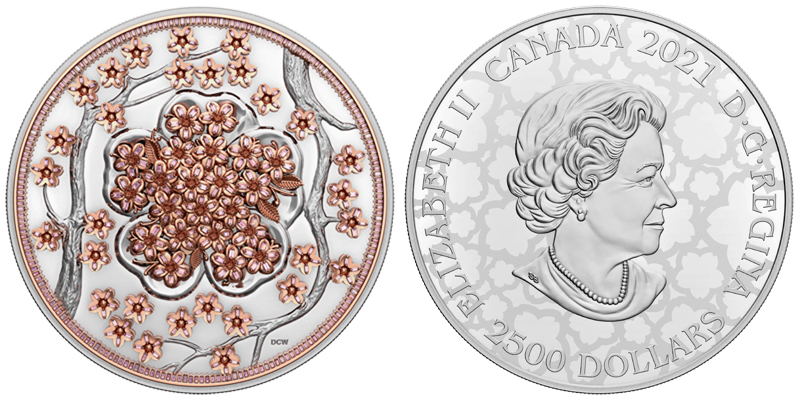 Rare pink diamonds recovered from the Land Down Under have found their place in collectors' coins, thanks to a collaborative effort from jewellery professionals in the Great White North.
The Royal Canadian Mint has unveiled four numismatic designs as part of its new Opulence Collection. The coins, which showcase an array of diamonds recovered from Rio Tinto's Argyle Mine in Australia, represent a collaboration between the Mint and Vancouver's Crossworks Manufacturing.
"There's a story of pride to tell here—an artisanal story of Canadian craftsmanship producing creations of extreme scarcity that will be sought after around the world," says Crossworks Manufacturing's executive director of sales and operation, Itay Ariel.
The coins, which were designed by Canadian artists, were fashioned by Beverly Hills Jewellers, based in Richmond Hill, Ont.
"As a Canadian company, we are honoured to be included in the creation of another captivating project with the Royal Canadian Mint," says Giovanni Vaccaro of Beverly Hills Jewellers. "We are incredibly proud of how each embellishment unified the beauty of the coin's design with the unique radiance of the pink diamonds."
To aid in unveiling the exclusive coins, the Royal Canadian Mint partnered with Toronto's Heffel Fine Art Auction House to sell the collection's flagship piece, 'The Ultimate,' which will be offered at a live auction on May 31.
Set in rose gold-plated platinum, the one-kilo coin's reverse showcases a cherry blossom design by Canadian artist Derek Wicks, featuring 462 fancy vivid pink diamonds (6.5 ctw), while its obverse shows a cherry blossom field pattern and the effigy of Queen Elizabeth II by Canadian portrait artist, Susanna Blunt. The coin has a worldwide mintage of one.
"The Ultimate is truly a work of art, and its intricate design and mesmerizing beauty will undoubtedly capture the attention of passionate collectors and enthusiasts across the world," says David Heffel, president of the Heffel Fine Art Auction House.
In addition to the Ultimate, the Opulence Collection features three coins with designs by Canadian artist, Simon Ng, including:
'Treasure,' a one-ounce pure gold coin featuring five fancy vivid pink diamonds (0.06 ctw) (worldwide mintage: 400);
'Grandeur,' a two-ounce platinum coin featuring 30 fancy vivid pink diamonds (0.34 ctw) (worldwide mintage: 30); and
'Splendour,' a 10-ounce platinum coin featuring 64 fancy vivid pink diamonds (1.2 ctw) (worldwide mintage: five).
"This limited-edition collaboration is really exceptional in terms of its artistry, rarity, and value, and we are very proud to be a part of this story," says Rio Tinto's general manager of sales and marketing, Patrick Coppens.
"The Royal Canadian Mint's reputation for crafting coins of exceptional sophistication and artistry is known to collectors around the world," adds the Mint's president and CEO, Marie Lemay. "Celebrating the talent and imagination of our people through precious metal and fine art is our passion, as well as our trademark."
For more, click here.