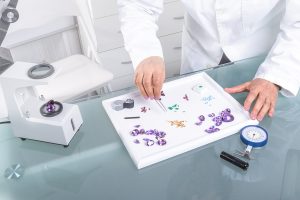 In the world of coloured gemstones, responsible sourcing, treatments, and gemmological analysis are just a few of the considerations to navigate. The fourth in a series of reports from the World Jewellery Confederation (CIBJO) delves into these and other issues related to the sector, based on work by the group's Coloured Stone Commission.
"More than 80 per cent of rough coloured gemstones that come into the pipeline are produced by tens of thousands of artisanal miners, at a great many small-scale mines around the world," writes commission head Charles Abouchar in the report, "but it is not only the logistical difficulties that make the coloured gemstone sector such a tough nut to crack. The potential of an overly cumbersome responsible sourcing system having unintended consequences is also a critical factor."
Given the need for a more consistent code of best practices when it comes to responsible gemstone sourcing, CIBJO is in the process of creating a Responsible Sourcing Guidance, says the report. The organization is also working to revise its Coloured Stone Blue Book, as the introduction of new treatments and artificial products has gradually made the current version more difficult to understand and navigate.
Recent updates made to the U.S. Guides for the Jewelry, Precious Metals, and Pewter Industries by the country's Federal Trade Commission (FTC) are also discussed, as is the need for separation between scientific fact and professional opinion in gemmological reports.
"We hope once gemmological laboratories accept this practice, consumers will better understand parts of a report reflect the opinion of the issuing laboratory, and that such opinions may differ from one laboratory to another," writes Abouchar.
The document has been released ahead of CIBJO's 2018 Congress in Bogotá, Colombia, which will be held on October 15. To read the full report, click here.