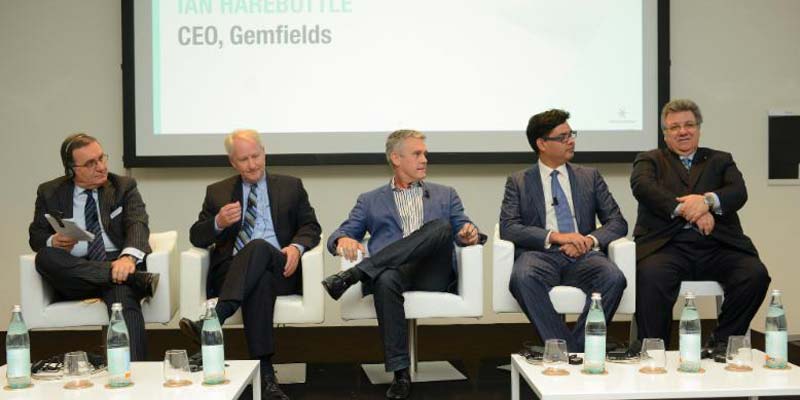 Corporate social responsibility (CSR) is no longer an option in today's business environment, but is instead, a requirement.
That's the message delivered at a seminar held at VicenzaOro. Sponsored by CIBJO and Fiera di Vicenza, the show's organizer, the panel discussion focused particularly on the coloured gemstone sector.
"Through corporate social responsibility, we can safeguard the long-term health of our industry," said CIBJO president Gaetano Cavalieri.
"By showing our commitment to our stakeholders, demonstrating that they too will be provided with fair and equitable opportunities to benefit from the jewellery enterprise, they will be incentivized to invest and reinvest in their future and that of the entire industry."
The panel of speakers also included:
Corrado Facco, managing director of Fiera di Vicenza and president of CIBJO's International Trade Fair Commission;
Eduardo Escobedo, executive director of the Responsible Ecosystems Sourcing Platform (RESP). He discussed sustainability and responsible environmental strategies in the coloured gemstone sector;
Ian Harebottle, CEO of GemFields. He presented his company as a case study for implementing CSR principles in the coloured gemstone sector;
Donald Feaver, chief technical officer of Branded Trust Assurance Systems. He outlined supply chain and CSR compliance strategies; and
Paolo Cesari, president of Assogemme, the Italian Association Precious Gemstones and Related Material. Cesari described his organization's program to create and introduce a supply chain compliance system for the Italian coloured gemstone sector.
"To present your company as a firm with a social conscience not only presents it in a positive light, but also communicates to consumers that, when they buy jewellery, they are making a positive contribution to society," Facco said. "In the modern business environment, it is not enough to just behave correctly; you have to be seen to be behaving correctly."