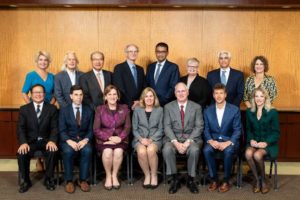 The Gemological Institute of America's (GIA's) Board of Governors has gained a new member. Samantha F. Ravich, PhD, is the latest addition to the group, which has the mission of guiding GIA to perform in a way that supports its overarching mission, vision, and reputation. Ravich is stepping into the role after the resignation of previous board member Karen Evans, who has begun working for the U.S. government.
The chair of Transformative Cyber Innovation Lab (a nonprofit aiming to improve cyber resilience in both government and private sectors), Ravich brings experience and proficiency with cyber risk mitigation, business strategy, and transformation of corporate culture to GIA. She is also a managing partner with A2 Partners and serves on various other government and private sector boards.
The Board of Governors welcomed its new member at an annual meeting, held after GIA's International Gemological Symposium in Carlsbad, Calif., in early October. In the days leading up to the symposium, the institute also held a three-day research meeting, bringing together 60 experts (including GIA research staff, governors, and executives, consulting scientists, and fellows from the Richard T. Liddicoat Postdoctoral Research Fellowship Program) to participate in discussions on various critical industry topics. Developments in instrumentation, detection of treated and lab-grown gems, and coloured gemstone origin determination were all covered.