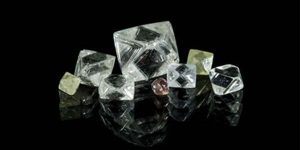 Peregrine Diamonds, owner of the Chidliak diamond project in Nunavut, has been acquired by De Beers Canada for a sum of $107 million, or $0.24 per share. De Beers will be adding the mine to its existing roster of Canadian projects, which includes Ontario's Victor mine as well as the Northwest Territories' Gahcho Kué.
The acquisition has been unanimously approved by Peregrine's Board of Directors, although to close the agreement, two-thirds of the company's shareholders must vote in favour. Court and regulatory approval is also required, meaning the deal will likely close in September.
"The Peregrine team has done outstanding work progressing the Chidliak project, demonstrating its quality and high potential. With our extensive De Beers Group operating experience in similar Canadian arctic environments and employing innovative mining methods, we believe we are very well positioned to develop this resource further," said Kim Truter, De Beers Canada's CEO. "We are delighted to be expanding our business presence in Canada to the Nunavut territory and look forward to working with all community and government partners as we progress the project."
"We have consistently stated Chidliak holds significant diamond mine development potential and this transaction is an excellent outcome for the company's stakeholders, including shareholders, community members, and the territory of Nunavut," added Peregrine's CEO, Tom Peregoodoff.
A total of 74 kimberlites—eight of which are potentially economic—have been discovered at Chidliak. The mine is located 120 km (74 ½ mi) from Iqaluit, the capital of Nunavut.