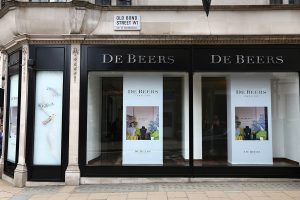 At last week's W Summit in Gaborone, Botswana, De Beers Group announced plans to support the country's female entrepreneurs through a three-year investment launching in early 2018. In partnership with United Nations (UN) Women and Botswana's Ministry of Nationality, Immigration, and Gender Affairs, the group will invest 8 million Botswanan Pula (BWP) in initiatives to improve disadvantaged women's business management, understanding of marketing, technical and life skills, and overall economic empowerment.
The effort will focus on two of the poorest areas of Botswana: the Okavango Delta and Kweneng District. In the former region, De Beers and UN Women will collaborate with the nonprofit Adore Little Children Botswana (ALCB) to extend ALCB's permaculture-focused economic empowerment programs. In the latter, the two groups will work to expand on existing and potential opportunities for small, medium, and micro-enterprises in collaboration with local partners.
"Botswana has achieved a huge amount of development through prudent use of diamond revenues, but challenges remain and programs such as these can have a real and lasting positive impact," said Bruce Cleaver, CEO of De Beers Group. "Advancing women's economic empowerment in two of the most disadvantaged areas of Botswana will not only support the women micro-entrepreneurs that participate in the programs, but also their communities through increased employment opportunities and skills development."
More information on how to participate in this initiative will be available in the new year.