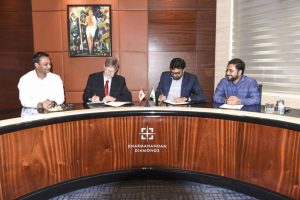 A Canadian diamond cutter will soon be bringing his work to the international scene. Under a new, exclusive agreement, India-based Dharmanandan Diamonds (DDPL) will begin manufacturing Saskatchewan cutter Mike Botha's proprietary cut, Sirius Star.
"This is a tremendous milestone for the Sirius Star brand as Dharmanandan has the depth of expertise and global reach to carry the brand in adequate inventory in all the sizes and clarity necessary for successful distribution," said Botha on signing the agreement. "We look forward to an exponential growth phase without neglecting our independent jewellers who have been fiercely loyal to the brand to date."
The partnership covers the cut's seven patented shapes, which DDPL will offer as part of the more than 500,000 carats of polished diamonds it produces each year.
"This exceptional lineup for proprietary shapes gives us an opportunity to transform how we scale our business in the special cut segment, allowing us to reach more people around the world faster, while also enhancing the experience we offer to our customers," said Sandip Patel, director of Dharmanandan Diamonds. "I am so excited to start using the Sirius Star range of diamonds under the DDPL brand."
With 50 years of experience in diamond cutting, Botha has supported the diamond industry through roles at the Northwest Territories' Department of Education, Culture, and Employment and Department of Industry, Tourism, and Investment, as well as running Aurora College's diamond training program in Yellowknife.