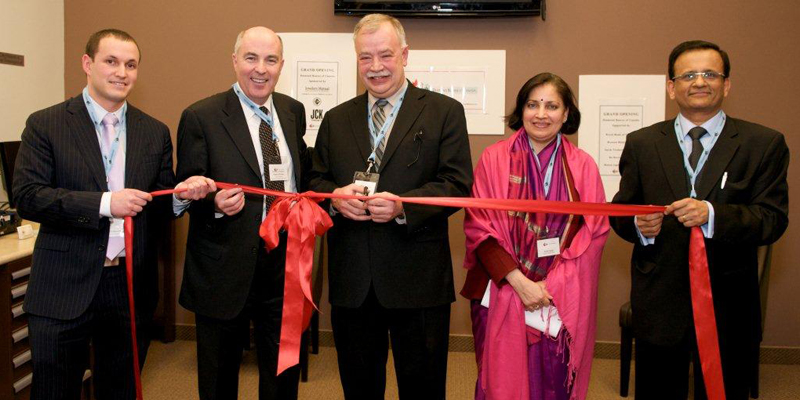 After several years of consultation and planning, the Diamond Bourse of Canada (DBC) is now a reality.
Gathering at the DBC's downtown Toronto office late last month, members of the Canadian jewellery industry and media attended the official opening of the diamond-trading venue and watched as government and bourse officials cut the ribbon on its new digs.
The DBC becomes the 29th bourse in the world and establishes a Canadian 'cradle to finger' diamond pipeline.
"The opening of Canada's first diamond bourse is an important catalyst for creating jobs and investment throughout the entire diamond pipeline," said Michael Brown, parliamentary assistant to the minister of Northern Development, Mines and Forestry.
"The DBC is an institution whose time has come."
The bourse is located at 20 Richmond St., part of the One Queen Street East complex in the heart of Toronto's diamond district. Its amenities include tenders, a full trading floor, with all the necessary instrumentation, and a customs bonded facility with safety deposit boxes.
DBC board chair Bhushan Vora said the lack of a bourse was an element missing from the Canadian jewellery landscape in comparison to other diamond-producing nations.
"The need for such a facility was very welcome, as it would put us on the world map and bring us together across Canada," said Vora, addressing the crowd that also included diamond representatives from South Africa, India, and Israel.
"Now that we've put the best talent and the best creative minds under one roof, I can only see the industry flourishing to new heights."
The DBC will apply for membership to the World Federation of Diamond Bourses (WFDB) this year, Vora added.