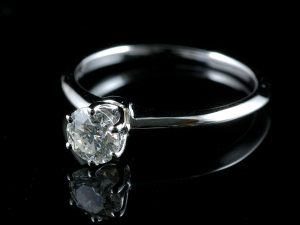 Diamond trading remained fairly sedate in April, according to Rapaport's latest diamond index. In most categories, prices tended to decline or remain steady, with only a few slight increases.
One-carat diamond prices stayed level, while their 0.30-carat counterparts saw a drop of 0.6 per cent. Three-carat gems similarly declined in price by 0.2 per cent. Meanwhile, 0.5-carat stones increased by 0.2 per cent, and polished inventory levels rose by nine per cent. The largest reported increase—a 2.8 per cent jump in one-carat diamond prices between January and April—was offset by a year-over-year decline of 1.3 per cent.
Rapaport suggests a number of potential causes for the stagnation, including dealer vacations surrounding the Easter holiday, continued tightening in Indian manufacturing, and a rise in rough prices.
However, the market remains generally optimistic. Increasing polished prices, a strong retail season over Christmas and the Chinese New Year, and strong rough sales volume are keeping many dealers hopeful the market will gradually improve.
However, Rapaport expects the diamond market to remain slow in May, with many dealers turning their attention to the United States and the upcoming Las Vegas jewellery shows.