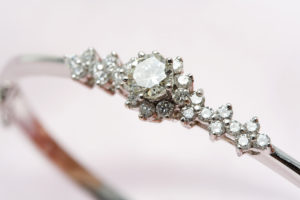 Despite a spike in inventory levels in the lead-up to Diwali, prices for polished diamonds are continuing to soften, reports Rapaport. A 0.9 per cent drop was observed in the company's index for one-carat diamonds during the month of October. However, due to a strong first half, the index is still up 0.7 per cent from last year and 1.3 per cent from the beginning of 2018.
Overall, trading remains fairly steady thanks to U.S. holiday orders, but the weak rupee and tight bank lending are causing pressure to mount for Indian dealers and manufacturers. Similarly, Chinese buyers remain cautious due to weakening currency and the U.S. trade war.
Production of smaller diamonds (i.e. melee and 0.30-carat gems) has declined, while reports of both higher prices and lower sales volumes from producers Alrosa and De Beers suggest focus on larger and less inexpensive diamonds is increasing. The total volume of diamonds listed on Rapaport's trading network is up 13 per cent from last month and 35 per cent from the beginning of the year, reaching a total of 1.6 million stones.
In the United States, preparations for the holiday season are boosting both polished trading and industry optimism. Consumer confidence is continuing to grow. Meanwhile, jewellers are taking more goods on memo and increasing their focus on omnichannel offerings and online sales.