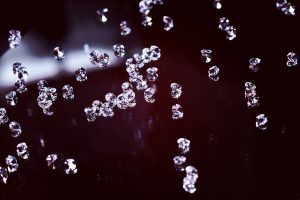 As the industry bids goodbye to JCK Las Vegas for one more year, diamond prices are holding relatively firm, according to Rapaport's diamond index for May.
Small dips and spikes in pricing were noted in the month-over-month data for all four polished diamond sizes assessed by Rapaport. The largest of these fluctuations was a 0.7 per cent increase in three-carat diamond prices, with one- and 0.30-carat gems dropping in price by 0.2 per cent and 0.50-carat stone prices increasing 0.2 per cent.
Cumulatively, Rapaport's data for the last five months indicates a 2.5 per cent price increase for one-carat diamonds. However, when compared to last year's numbers, those prices have taken a 1.2 per cent dive. Inventory, on the other hand, is on the rise, with 1.3 million diamonds listed in Rapaport's trading network—10 per cent more than at the beginning of the year.
The company highlighted numerous factors as having an influence on price and market sentiment. It notes De Beers' Lightbox launch as a potential threat to both the lab-grown and fashion jewellery sectors and flags the first quarter's strong purchasing trends as one reason retailers are holding off on seeking new inventory—with diamonds in stock, they have no need to purchase more.
As for when retailers might start buying again, Rapaport is placing its bets on the year's third quarter, when preparations begin for the holiday shopping season.