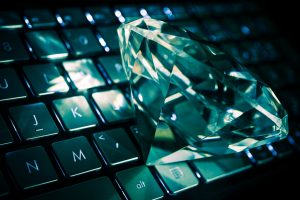 Digital currency is among the developments up for discussion at International Diamond Week in Israel (IDWI) next month. Israel Diamond Exchange (IDE) has planned a seminar to be hosted by CARATS.IO, the startup behind two new diamond-based cryptocurrency 'coins,' explaining both the currencies and the potential benefits they may bring to the jewellery community.
"By co-operating with this innovative startup, we're making diamonds a viable investment channel for a whole new market," said Yoram Dvash, president of IDE. "This is important for the diamond sector in Israel and the world over."
The two coins are referred to as Carat Utility Token (CUT) and CARAT, and can be distinguished from one another by their target markets. CUT is intended for use in diamond traders' B2B transactions, while CARAT covers the more general scope of financial institutions and investors in digital currency. Both are to be backed by diamonds, with market cap coverage of 25 per cent.
"We're making a meaningful contribution to the diamond industry by simplifying transactions between diamantaires, eliminating financial intermediaries, and enabling diamond dealers to hedge themselves against price changes," said Avishai Shoushan, founder and CEO of CARATS.IO. "Moreover, we're opening the diamond industry to a huge, largely untapped market of financial institutions and cryptocurrency investors."
IDWI will be held from February 5 to 7, 2018. For more information, visit the event's site.