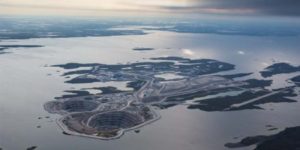 The Northwest Territories' Diavik mine has earned a new accolade for two contributions to the region's minerals industry and economy. The Northwest Territories Mining and Exploration (MAX) Special Achievement Award honours the design, construction, and operation of the mine's dikes, as well as its work on the Tibbitt to Contwoyto Winter Road project as a joint venture partner.
Acting as a supply route to three Northwest Territories-based mines, the road is operated by a joint venture comprising Diavik, De Beers Canada, and BHP Billiton.
"We are honoured to be selected by the committee. This award is a testament to the collaborative work done between the three joint venture partners," said Ron Near, director of winter road operations for the joint venture. "Operating in such remote areas with challenging technical constraints brings the best out of respective teams. We look forward to another successful winter road season in 2019."
Additionally, Diavik's trio of rockfill dikes received recognition for successfully ensuring underwater deposits can be accessed safely. The most recent of the three spans 2.2 km (1.3 mi) and was constructed with 3 million tonnes of rock, with a maximum depth of 30 m (98 ft). It protects the project's newest diamond pipe, A21.
"We are delighted and honoured to receive this award, which is a testament to the pioneering spirit of everyone at Diavik," said Patrick Boitumelo, president and chief operating officer (COO) of Diavik Diamond Mines.
The awards are presented by the NWT & Nunavut Chamber of Mines and the Government of the Northwest Territories' Department of Industry, Tourism, and Investment.