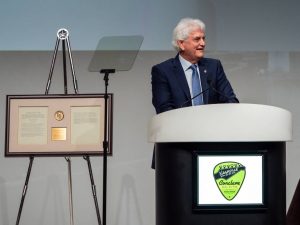 Douglas Hucker, CEO of the American Gem Trade Association (AGTA), has been named the 2018 recipient of the American Gem Society's (AGS's) Robert M. Shipley Award.
The society's most prestigious honour, the award was granted to Hucker for his dedication to the industry and longstanding service to AGS. In his role at AGTA, he not only promotes enthusiasm for coloured gemstones, but also encourages the company to follow ethical practices.
"I cannot imagine a more worthy recipient of the Shipley Award," said Mark Moeller, former chair of AGS's board of directors. "Doug has given of himself and his expertise to AGS members for decades."
Hucker is also the 2016 recipient of the society's Triple Zero Award, and the 2015 recipient of its Sallie Morton Award.