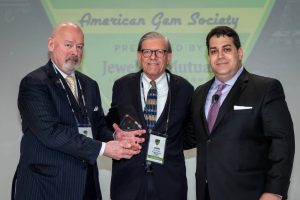 Numerous members of the American Gem Society (AGS) were recognized at a luncheon at the society's annual Conclave yesterday. In all, four awards were presented, recognizing members' achievements in supporting both AGS and the trade as a whole.
Two past JB contributors were among the award recipients: Jennifer Shaheen of Technology Therapy Group and David Sexton of Jewelers Mutual Insurance Group. Shaheen received the Sallie Morton Award for her exceptional service to the AGS guilds in her role as a speaker, while Sexton received the John. J. Kennedy Award for his efforts to better protect the jewellery industry.
"Mr. Sexton is deeply entrenched in the security of our industry," said Marc Altman, CGA, chair of AGS's International Guilds Council, who presented the award. "He has given countless presentations on loss prevention at trade shows, Conclave, conferences, and meetings across America, as well as supervised bulletins that not only went out to clients of Jewelers Mutual, but also the broader industry."
Other award recipients included Sarah Nanasi Russell, CG, who received the Young Titleholder of the Year Award, and AGS's Seattle Guild, which was recognized as Guild of the Year.
This year, Conclave was held in Nashville, Tenn., from April 23 to 25.