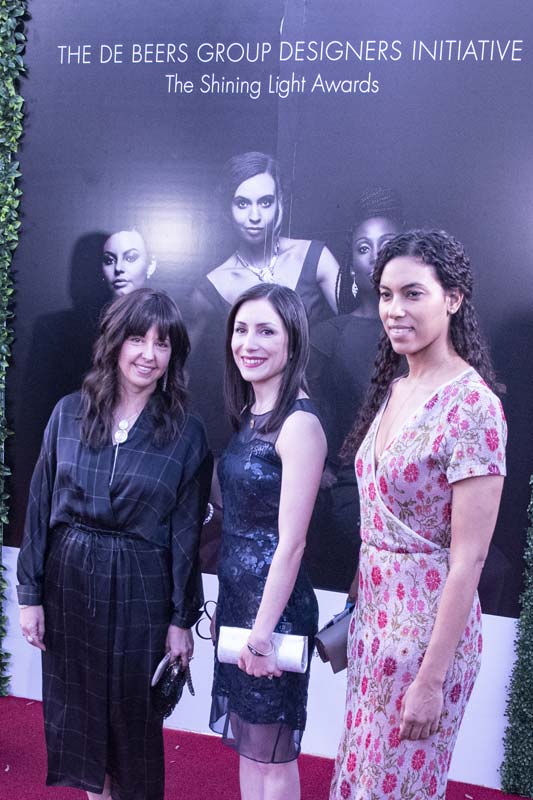 The designs of three recent graduates of Toronto's George Brown College (GBC) earned international praise at De Beers' 2019 Shining Lights Awards (SLA) in Botswana.
Cara Fitzell, Edna Milevsky, and Rana Mireskandari were among 30 Canadian students to submit designs for the competition under this year's theme of 'Heroines and Heritage.'
The trio joined 12 total finalists, representing De Beers Group's diamond producing partner countries of Canada, Botswana, Namibia, and South Africa, in Botswana's capital of Gaborone for the red-carpet awards gala. Judges selected one winning design and two runners-up per country.
Fitzell took top honours and the prize of a one-year scholarship at Italy's Politecnico di Milano (POLI.design) for her collection titled, 'Flight to Freedom.' The designs, she said, were inspired by her mother, along with the "universal stories of mothers who make immense sacrifices to provide for and protect their children."
"Flight to Freedom uses the motifs of the wings and beaks of hummingbird to symbolize flight, freedom, and migration," Fitzell explains.
Meanwhile, Milevsky won the first runner-up award, which includes a three-month internship at the Forevermark Innovation Centre in Milan, Italy. Dedicated to her grandmother, Milevsky's collection, 'Tatami,' emulates themes of traditional 'women's work' (e.g. weaving, quilt-making, sewing) and the empowerment these creative endeavours can offer during difficult times, as they did for her grandmother during World War II.
"The recurring motif in the pieces is the woven pattern, which also brings to mind my family's adopted country of Canada," she says. "As a second-generation Canadian, I am grateful and proud to be part of this nation, which is composed of so many different types of people and cultures from all over the world, woven together with the land."
Finally, Mireskandari received the second runner-up honour, which includes a one-year scholarship at Akapo Jewellers in South Africa. Her collection, 'Women Are Warriors,' is representative of gender equality and incorporates Canadian diamonds to symbolize courage and strength.
"Canada, my new home and country, offers exciting opportunities that were not available to me as a young woman in Iran," Mireskandari explains. "Thousands of years ago, women in the Persian Empire held important positions and enjoyed equality. I am particularly struck by the stories of powerful female warriors and army commanders—inspiring role models in the face of the challenges and restrictive atmosphere women endure in contemporary Iranian society.
"Canada has given me the encouragement to channel my ancestors and fight for what I believe in: women's equality."
In addition to attending the gala, the finalists visited De Beers Global Sightholder Sales facilities the Global Diamond Academy, and toured the Orapa and Damtshaa diamond mines.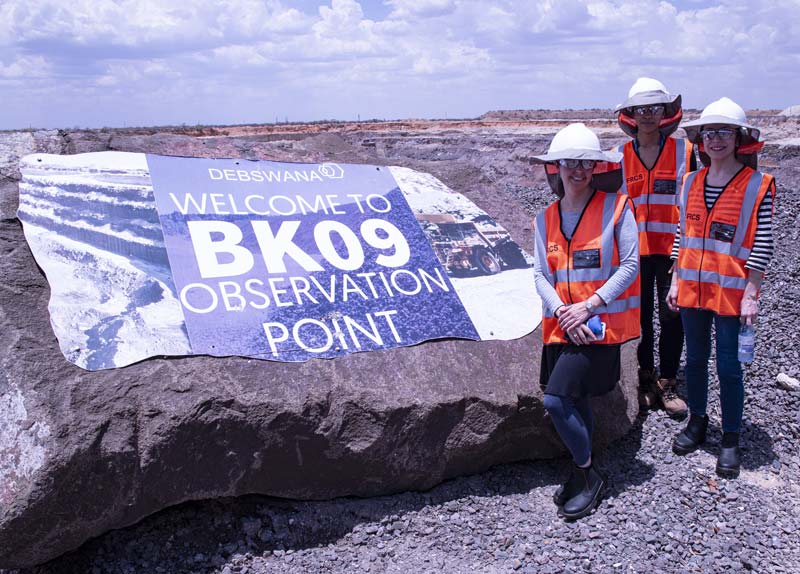 The Shining Light Awards are open to aspiring jewellery design students across Canada, Botswana, Namibia, and South Africa.
This year's competition marked the first-time participation of Canadian entrants.
"This competition has evolved over the years," said Tom Ormsby of De Beers Canada. "To be able to see Canadian design students participate with such interest and high numbers is a testament to the excellent programs being offered at the college and university level here in Canada."
Fellow members of Toronto's gem and jewellery community extended their congratulations and expressed their well wishes to the winners.
"Congratulations winners and to all at GBC—this is fantastic news!" said jewellery designer and artist, Reena Ahluwalia. "Here's to celebrating the talent and tireless work all students and faculty put in each day."
Beatrice Sturtevant, managing director of the Canadian Jewellers Association (CJA), echoed the sentiment.
"The CJA is wishing the winners and their mentors the most heartfelt congratulations," she said. "This is spectacular—truly!"
"Congratulations to the GBC graduates, their mentors and instructors, and to the school that helped them reach the place they have achieved," added JB columnist, Duncan Parker, of Dupuis Fine Jewellery Auctioneer. "They obviously have great skills and creativity."
The host country for the awards gala rotates amongst De Beers Group's diamond producer countries. Next year's will be hosted in Canada.