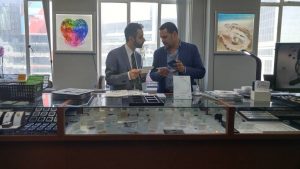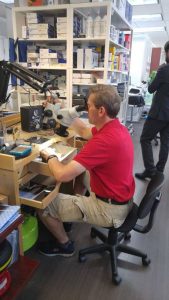 Professionals from across the jewellery industry gathered in Toronto on May 28 and 29 for European Design Jewellery's Test Drive Event, now in its second year. Hosted at 21 Dundas Square, this drop-in event gave visitors the chance to see, touch, and try their hand at a slew of jewellery-related innovations.
"The Test Drive Event allows visitors to browse gemstones, findings, and tools all in one spot," Daniel Kundakci of European Design told Jewellery Business. "It combines selling and education, but its main point is to educate people."
The event showcased everything from new tools like ceramic files to high-tech engravers and laser welders. Particularly popular offerings included new polishing technology from Murua and a technical demonstration of plating from Legor. Visitors could try the plating system themselves and ask the experts questions as they arose.
Kundakci said this year's event was a success, outperforming the first edition with a solid increase in foot traffic. The number of companies showcased also increased, growing to six (namely Swarovski, Murua, Legor, Vallorbe, Orotig, and Elma) from two in 2017.
~By Carly Midgley