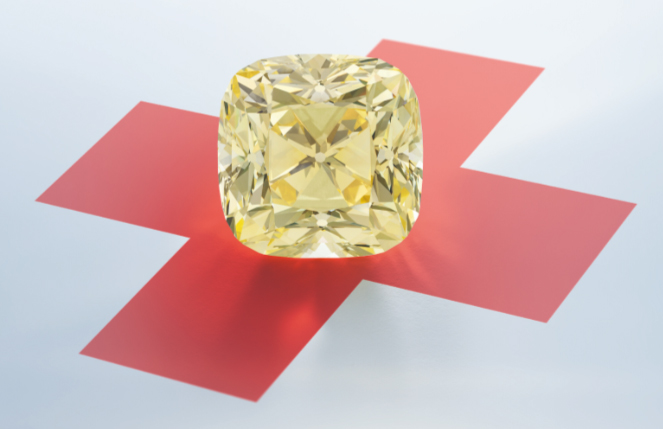 A 205.07-carat yellow diamond will soon make its third appearance at Christie's more than 100 years after its debut, with part of its sale revenue to be donated to the International Committee of the Red Cross.
Dubbed 'The Red Cross Diamond,' the cushion-shaped fancy intense yellow diamond was cut from a 375-carat rough stone found in 1901 in a De Beers South African mine. A striking feature of the cut diamond is its pavilion, which is faceted in the shape of a Maltese cross.
The stone was first auctioned amidst World War I on April 10, 1918, by Christie's London on behalf of the British Red Cross Society and the Order of St. John. It sold to London jeweller S.J. Phillips for £10,000 (Cdn$16,500)—approximately £600,000 (Cdn$987,500) today.
Fifty-five years later, it appeared for sale again at Christie's Geneva on Nov. 21, 1973. This time it achieved CHF 1.8 million (Cdn$2.4 million) and returned to private ownership.
"This is the third time in more than 100 years for Christie's to present this extraordinary canary yellow diamond of 205.07 carats," says François Curiel, chair of Christie's Europe and head of the luxury department. "This is a very special bond and tremendous honour. Part of the proceeds of the sale will benefit the International Committee of the Red Cross, for a cause that is even more poignant in the midst of current events."
The Red Cross Diamond will be presented as part of Christie's Geneva Magnificent Jewels on May 11. The auction will also see the sale of 'The Rock,' a 228-31 carat white diamond that carries a pre-show estimate of up to Cdn$37.9 million.