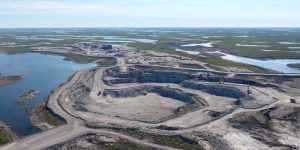 Gahcho Kué Mine's first year in production has ended successfully, according to results announced by Mountain Province Diamonds, which co-owns the mine with De Beers. For full year 2017, Mountain Province's total sales stood at $238 million, with an average full-year realization of $89 per carat. The company recovered approximately 5.9 million carats during the year.
Earnings before interest, taxes, depreciation, and amortization (EBITDA) amounted to $56.6 million in the second half of the year. David Whittle, Mountain Province's interim president and CEO, says this "underscores the cash flow-generating capabilities of the Gahcho Kué mine."
"This has all been achieved with a commendable safety record at site, and I congratulate the entire De Beers operating team for what they've accomplished," he continued.
The grade of the recovered diamonds exceeds expectations, coming in at an average of 2.14 carats per tonne—approximately 32 per cent above the original budget for the year. This trend of high performance is expected to continue in 2018. Mountain Province anticipates production will likewise increase to 6.3 to 6.6 million carats, with average grades of 2.02 to 2.12 carats per tonne.
"The 2018 year has seen a strong start in rough diamond markets. The first two sales of the year substantially exceeded expectations, and prices have firmed across all product categories since the second half of 2017," said Whittle. "We look forward to a year of strengthening fundamentals in the diamond industry."