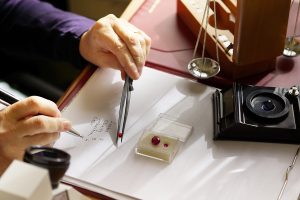 At the Robert M. Shipley Award luncheon during last week's American Gem Society (AGS) Conclave, the society was given a US$50,000 education grant by the Gemological Institute of America (GIA).
The two organizations share a founder, Robert Shipley, as well as the common goal of educating and supporting the jewellery trade.
"We are thrilled to be able to support AGS with this education grant," said Susan Jacques, GIA's CEO. "Education and certification are the core competencies of our closely related organizations, and they are the keys to helping jewellers reach success."
The grant will be put toward awards for GIA education, which will be administered by AGS to members of the society. It brings the total amount of AGS funding from GIA for the year up to almost US$150,000.
"I would like to thank the entire team at GIA and the institute's Board of Governors for this generous grant," said Katherine Bodoh, CEO of AGS. "This gift will allow AGS members access to the education they need to obtain their titles."