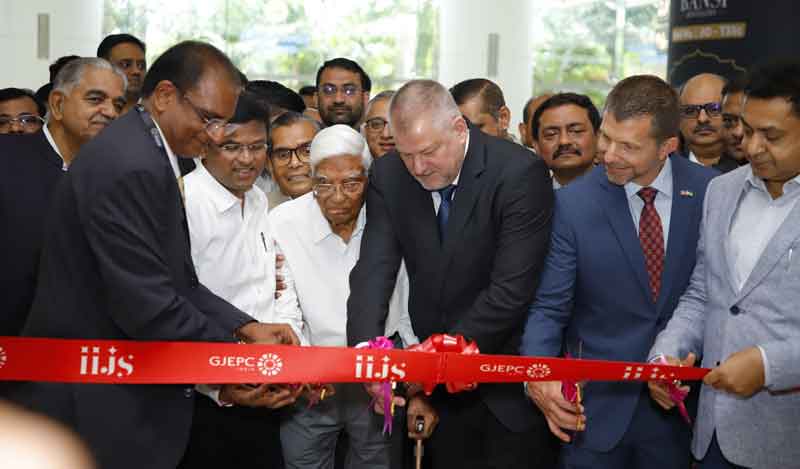 Over C$11.5 million (Rs 70,000 crore) of jewellery business was conducted in Mumbai earlier this month at the Gem & Jewellery Export Promotion Council's (GJEPC's) India International Jewellery Show Premiere (IIJS Premiere).
The 39th installment of the organizer's flagship event saw more than 50,000 visitors gather at two venues: Jio World Convention Centre (JWCC) and Bombay Exhibition Centre (BEC) (located in NESCO Goregaon). The paperless, fully digital IIJS Premiere accommodated 3,250 stalls and welcomed 1,850 exhibitors, spread over 70,000 m2 of exhibition space.
"It's clear … the landscape in India [is] a perfect platform for growth," says Paul Rowley, executive vice-president of diamond trading for De Beers Group. "India was already one of the world's top markets, but it has also been the fastest growing major market this year."
Among the attendees were more than 2,100 visitors from over 65 countries, including Canada, the United States, the United Kingdom, the United Arab Emirates, Australia, Saudi Arabia, Qatar, Iran, Italy, and more.
"IIJS Premiere has achieved unprecedented success, surpassing all previous records and exceeding our expectations," says GJEPC chair, Vipul Shah. "It has singlehandedly reversed market sentiments and kickstarted the business cycle into high gear, perfectly timed ahead of the festive and wedding seasons."
"This gathering holds the potential to breathe new life into the country's exports in the months to come," he adds.
The event also saw the eighth edition of GJEPC's "Jewellers for Hope" charity dinner, which, this year, supported Relief Projects India (RPI), a non-governmental organization (NGO) focused on women-child centric issues and education. Actor Vicky Kaushal attended the dinner and spoke about the organization, as well as the impact it has created in India.
"I am extremely proud of the work RPI has put in over the years for its education program, Mountain View School, which is dedicated on providing quality education and a safe environment to all underprivileged kids in the area," he says.
Also celebrated is the success of GJEPC's "One Earth" initiative, which was launched in January with the goal of planting 50,000 trees in one year.
"We are proud to announce the initiative has surpassed all expectations, achieving the target of planting [100,000] trees," says Nirav Bhansali, convener of national exhibitions at GJEPC.
"Our collective efforts will lead to a reduction of 40,000 tons of carbon dioxide, will produce an impressive 67,000 tons of vital oxygen, and create 220 acres of lush green cover, nurturing biodiversity," he adds.
For more, click here.