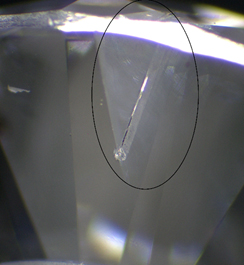 Gemological Science International (GSI) is advising industry members to be extra cautious after receiving a lab-grown diamond with an inclusion typically only found in natural stones.
The discovery was made at GSI's Mumbai laboratory, where researchers identified a high-pressure, high-temperature (HPHT) lab-grown diamond with what appeared to be a laser-drilled channel.
The stone was examined closely, with scientists noting it would be 'highly unusual' to drill a lab-grown diamond. Upon closer inspection, the channel was determined to be a typical HPHT inclusion that was cut open from top and pavilion, then acid-bleached out.
The remnants of the inclusion, GSI says, bear a strong resemblance to laser-drill treatment, which is generally used to remove black inclusions from natural diamonds to enhance their appearance.
The organization notes there is a 'common misconception' a diamond can be identified as natural or lab-grown based on its inclusions. In this case, GSI says, a hasty examination could have classified the stone as natural, especially since there are no recorded cases of lab-grown diamonds with this treatment.
"Diamond growing technology continues to improve and growers are trying to mimic natural diamonds in every possible way," says Nick DelRe, GSI's chief information officer. 
GSI stresses the importance of using proper processes, equipment, and expertise when identifying diamonds, adding that its research department continues to conduct advanced testing on lab grown and identification.