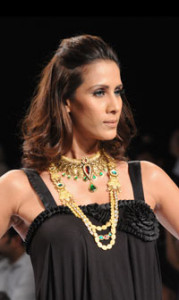 India will put its best foot forward with the relocation of IIJS Signature to the NSE Grounds in Mumbai.
 
The Gem and Jewellery Export Promotion Council (GJEPC)—the show's organizer—says the fourth edition of the show is expected to draw more than 15,000 visitors and 400 exhibitors showcasing India's finest in jewellery design. The move is designed to better accommodate retailers by focusing on jewellery staples like loose diamonds and coloured gemstones. IIJS Signature was held previously in Goa.
"The IIJS, IIJS Signature, and IIJW jewellery shows organized by the council have provided a platform for the industry to grow and collectively raise the bar in terms of quality, design, and business practices," said GJEPC chair Rajiv Jain.
"GJEPC is encouraged by the participation of industry members from around the country in these promotional initiatives. Another joint effort that is underway is in procurement of raw materials, which will support the industry in managing its growth. The shift of IIJS Signature to Mumbai provides a larger venue and enables many new jewellery manufacturers to participate in our shows."
This year, the show also introduces the Signature Club, a special area in a prime location made up of manufacturers of high-end jewellery meeting strict criteria to participate.
IIJS will be held from Jan. 7 to 10.