Inferred mineral resource of 5 million carats evaluated in Northwest Territories
October 12, 2017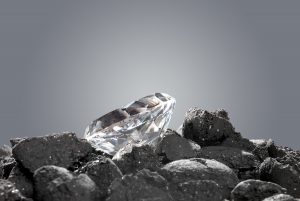 Hopeful results have been obtained from Kennady Diamonds'[2] mineral resource estimate for Faraday kimberlites at the company's Kennady North Project in the Northwest Territories. The location yielded an inferred mineral resource of 5.02 million carats of diamonds in 3.27 million tonnes of kimberlite, with an overall grade of 1.54 carats per tonne and average value of US$98 per carat. These results were determined by Aurora Geosciences[3], Mineral Services Canada[4], and SRK Consulting[5].
"The 5-million carat Faraday inferred resource builds upon our Kelvin indicated resource of 13.62 million carats and represents another significant step in the advancement of our Kennady North Project," said Rory Moore, CEO of Kennady Diamonds.
The kimberlites are located approximately 2.5 km (1 ½ mi) to the northeast of the Kelvin kimberlite on the project. Drilling this past summer revealed Faraday 1 and 3 (initially understood as separate pipes) are joined at depth. The Faraday 3 component of this complex, as well as Faraday 2, have been evaluated as mineral resources. However, there is not yet sufficient data for the same to be declared for Faraday 1, which is currently designated a target for further exploration (TFFE).
"Continued upside potential exists for the Faraday resource from the additional strike added to Faraday 2 during our successful summer 2017 program, which is not included in the current resource estimate," said Moore. "The additional tonnage, together with that from Faraday 1 and the high-grade sheets associated with the Faraday 1 to 3 Complex, have potential to materially increase the overall Faraday resource, particularly in view of the robust modelled diamond values obtained for the small sample of Faraday 1 of US$108, US$164, and US$267 per carat for the 'low,' 'base case,' and 'high values."
The estimate is based on:
a geological model defining the boundaries of the deposit;
the geologically distinct domains of which the deposit is comprised;
estimates of average bulk density for each domain;
estimates of average grade for each domain; and
estimates of the average value of diamonds within each domain.
"Based on these results, we are planning our winter program with intent to further expand the resource potential of the project," said Moore. "In addition to further delineating the Faraday kimberlites, we intend to drill-test a selection of the best untested geophysical targets within the Kelvin-Faraday corridor with the aim of discovering new high-potential kimberlites."
The company will file an updated National Instrument (NI) 43-101 Technical Report for both the Kelvin and Faraday resources within 45 days.
Endnotes:
[Image]: https://www.jewellerybusiness.com/wp-content/uploads/2017/10/bigstock-Diamond-In-The-Rough-6613316.jpg
Kennady Diamonds': http://www.kennadydiamonds.com/
Aurora Geosciences: http://www.aurorageosciences.com/
Mineral Services Canada: http://www.msgroup.net/page/mineral-services/
SRK Consulting: https://www.srk.com/en
Source URL: https://www.jewellerybusiness.com/news/inferred-mineral-resource-5-million-carats-evaluated-northwest-territories/
---