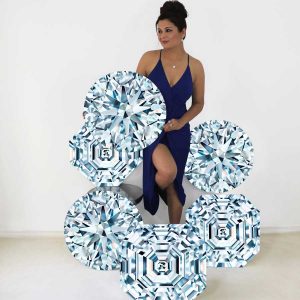 When it opens this spring, the Belgian jewellery museum known as DIVA Antwerp Home of Diamonds will play host to a wide variety of dazzling exhibits—including some that pay homage to the talent within the Canadian jewellery industry. Diamond paintings by Toronto-based jewellery designer Reena Ahluwalia will be housed in the museum when it opens, and are currently featured in its onsite shop, which is already open for business.
"When a one-of-a-kind diamond museum recognizes your work in the field you have dedicated your life's work to, it's quite an honour," said Ahluwalia in an exclusive interview with Jewellery Business.
The paintings in question are hyper-realistic, magnified representations of diamonds, inspired by Ahluwalia's background as a jeweller.
"My paintings reflect my lifelong work with diamonds," she says. "I am intrigued by their endless beauty. I believe we are all like diamonds—brilliant, radiant, luminous, full of potential, and much more! This is the connection I want to express through my paintings."
In particular, this idea forms the basis for her latest series, 'The Diamond Constellation,' which features paintings honouring humans' "star-like" potential. Each piece of art is created through a process that takes more than 200 hours to complete.
"Both crafting jewellery and painting gems are creative journeys," says Ahluwalia. "Both start with concept explorations, experimentations, drawings on paper, technical layouts, and models. Both are incredibly time-consuming, but gratifying. The more you create, the better you become in expressing your story."
The museum shop opened early last month, while the museum itself is scheduled to open May 7.
~By Carly Midgley