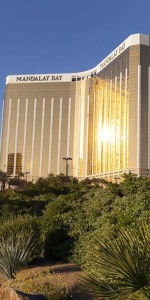 Redesigning retail is the overarching theme of JCK Las Vegas's 2015 education program, which will use a TED Talks-inspired concept.
The revamped line-up—which begins May 28, a day ahead of the start of the show—seeks to offer retailers tools, insight, and information to succeed in today's retail landscape and to help prepare for the future.
"We are very excited to bring JCK Talks to the industry," said Yancy Weinrich, JCK Events senior vice-president. "Our education component has always been a source of pride. The Talks model feels more timely and engaging, and the thoughtful curation of powerhouse speakers and content ensures a takeaway for everyone."
According to Reed, industry expert Diane Warga-Arias served as JCK Las Vegas's education strategist, overhauling the program to address the underlying needs of the trade.
The program's substance has changed, consisting of seminars by an all-star lineup of retail leaders and lively panel discussions.
De Beers chief executive officer (CEO) Philippe Mellier and executive vice-president, marketing, Stephen Lussier, are slated to present 'Diamond Insights' on May 28.
Reed says the new date pattern allows for a concentrated focus on education and will not take away from business dealings once the show floor opens. The 'Talks' will also be streamed live on jckonline.com.
"The Talks model will infuse an inspirational, motivational tone that has proved so helpful to those looking to expand their knowledge, grow their business, and achieve success," said Warga-Arias.
"It's hearing the stories of others that motivate us to do our best work, and with topics such as 'Multi-channel Marketing for the Real World Retailer' and 'The Retail Revolution,' there will be no shortage of useful tips to take away."
JCK Las Vegas is held at the Mandalay Bay Resort and Casino and runs from May 29 to June 1.