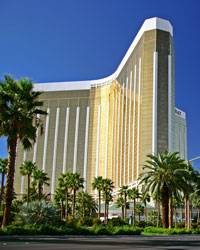 JCK Las Vegas is moving down the strip to Mandalay Bay starting in 2011.
 
Being touted by JCK Events as an "overarching reinvention," the switch in venues comes following research and feedback. More than 80 of the show's largest exhibitors and organizations visited the resort in July.
The move received the thumbs up from individual companies and larger groups such as the American Gem Trade Association (AGTA), Hong Kong Jewelry Manufacturers Association (HKJMA), Luxury, Plumb Club, Prestige Promenade, Swiss Watch, and Vicenza Oro Italian Pavilion.
"This has been a pure example of customer-focused decision making," said Dave Bonaparte, group vice-president for JCK Events. "We will deliver dynamic change to meet the needs of our customers and create fresh new value without sacrificing any fundamental element that has made JCK Las Vegas so special for 18 years."
The existing date pattern for the show remains in effect.
"We have thoroughly enjoyed our tenure at the Sands Convention Center," Bonaparte said. "Indeed, our company will continue to hold three major events at the Sands in 2011 and beyond. But for JCK's customers, this was the right decision at the right time."
According to JCK Events, Mandalay Bay offers a state-of-the-art convention facility, which is expected to improve the overall exhibiting environment and offer an easier move in/move out process. Nearby accommodations range from luxury to more moderately priced hotels.
Next year, JCK Las Vegas will take on a more retailer-focused feel, Bonaparte said.
"We will continue to seek ways to reduce cost, and organize the floor plan better for ease of navigation and efficient buying. And we will continue to invest in more programming, education, and opportunities for networking and socializing, all important to the retail customers, based on our research."