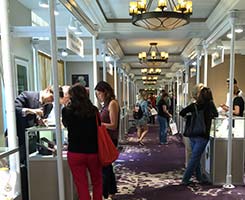 A hosted buyer program is one of the new design concepts attendees at JCK Tucson can expect, come next February.
Now in its third year, the show also features a new layout and upgraded booth design in two ballrooms. The first ballroom comprises a juried collection of designers and brands, while the second will include loose gemstones and mountings. The layout will be complemented by open and airy lounge spaces, including a chic indoor tent paying homage to the core of Tucson Gem Week.
JCK Tucson is open to all qualified jewellery retailers, but starting next year, hosted retailers—which will include qualified elite design, boutique, and gallery buyers—receive a complimentary hotel stay, along with personalized vendor matchmaking and special amenities.
"We've listened to the jewellery community and what they want out of their Tucson experience," said Katie Dominesey, vice-president for JCK Events.
"We recognize JCK needs to celebrate the eclectic and fun side of Tucson, while adding some finishing touches both on and off the show floor. Business days start with a morning hike, continue with treasure hunting for the best baubles, and end by the fire pit with colleagues—a truly well-rounded business experience."
JCK Tucson runs from Feb. 3 to 7 at JW Marriott Starr Pass Resort & Spa. The festivities kick off Feb. 2 (Tuesday) on the resort's golf course, bringing together jewellery retailers, manufacturers, and industry professionals for a scramble tournament benefiting Children's Health Fund. For more information, visit jckonline.com/tucson.